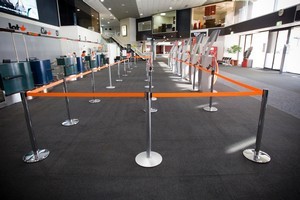 Australian budget airline Jetstar has dismissed as "absurd" suggestions it has cancelled flights during the Chilean volcanic ash cloud crisis for financial reasons.
The ash cloud from the Chilean Mt Puyehue Cordon Caulle volcano is once again disrupting plans of New Zealand air travellers this week.
After returning to the skies after scores of flights were grounded for two weeks Jetstar today cancelled all flights in and out of Queenstown and Christchurch until midday tomorrow.
Qantas' Queenstown services also remain suspended until further notice while its Christchurch service is suspended until 11pm tomorrow and flights in and out of Wellington until 2pm.
However, all Air New Zealand flights are operating as normal.
Civil Aviation meteorologist Peter Lechner said today the ash cloud was moving slowly back up the South Island today and would be around for at least a day, but should be completely gone in two or three days.
Yesterday Forsyth Barr aviation analyst Rob Mercer was reported as saying Australian airlines chose not to fly in and out of New Zealand during the past two weeks for financial reasons, not because of the safety risks posed by ash clouds.
Qantas' international operations would lose A$200 million ($260 million) this year, it announced last week.
"The decisions not to fly are easier if you are running at a loss, than they are if you are running at a profit. [Air] New Zealand probably came out of this with a lot more customer loyalty than Qantas," Mr Mercer said.
But today Jetstar Group chief executive Bruce Buchanan rejected Mr Mercer's claims, saying the airline was focused on safety alone.
"The claims... that our position taken had anything to do with a cost cutting measure are absurd.
"The mere suggestion that grounding your entire operation in market -- hundreds of flights over a two week period -- would improve financial performance is out of touch with the tough reality of running an airline."
Jetstar had cancelled over 460 New Zealand flights during the ash cloud crisis and said its "safety before schedule" approach of grounding flights would cost it more than $13 million.
Jetstar's competitors would have picked up the extra passengers and their fares, but the airline would have to wear that, Mr Buchanan said.
"We hope all customers understand that Jetstar will always make safety our number our one priority ahead of financial gain."
- NZPA