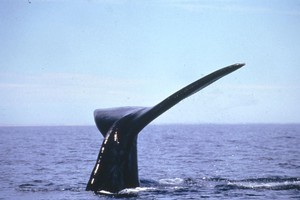 Endangered southern right whales are re-colonising the New Zealand mainland coast after the species was nearly hunted to extinction in the 19th century, new research shows.
The University of Auckland and New Zealand Department of Conservation (DOC) took part in the research which showed small but growing numbers of the whales were returning to the New Zealand coast to give birth and raise their calves.
The whales, which were rarely seen around mainland New Zealand in the last century, were moving from a rampant population in the sub-antarctic Auckland Islands, Professor Scott Baker from the University of Auckland said.
"With the increase in numbers observed around the Auckland Islands over the last decade, we think that some individuals are re-discovering the former primary habitat around the mainland of New Zealand," Prof Baker said.
The findings from DNA prints of individual whales suggested the mainland New Zealand population was wiped out by hunting and the returning whales were from the remnant sub-antarctic population, he said.
Lead author Emma Carroll, a PhD student from the University of Auckland, said the study supported the theory the whales had a kind of cultural connection to regional calving grounds through a process called maternal fidelity which is passed from a mother to calf during the first year of life.
"This maternal fidelity contributed to the vulnerability of these local populations, which were quickly hunted to extinction using only open boats and hand-held harpoons," Ms Carroll said.
This heritage seemed to have been lost when right whales around mainland New Zealand were wiped out, which slowed the return of whales to their former habitat.
DOC national marine mammal coordinator Laura Boren said with it currently being winter calving season, members of the public were asked to report any sightings.
Dr Boren said people could also submit any photos of the whales but warned them not to get too close.
"To keep both you and the whale safe, leave a distance of 50m or 200m if there is a calf present," she said.
- NZPA