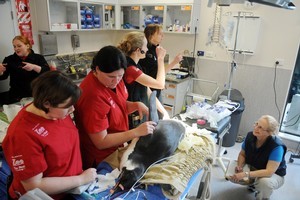 A young emperor penguin has a 50 per cent chance of survival after filling its throat with sand from a Kapiti Coast beach, a Wellington Zoo spokeswoman says.
Hundreds of people flocked to Peka Peka beach, 60km north of Wellington, hoping to catch a glimpse of the penguin this week.
But the health of the unusual visitor- which is more than 3000km from its Antarctic home - has steadily deteriorated.
It was transported to Wellington Zoo in a chiller after 12pm.
Wellington Zoo spokeswoman Kate Baker said the penguin, whose sex is unknown, was currently under anaesthetic for potentially lifesaving treatment, Ms Baker said.
Manager of vetinary science Lisa Argilla earlier gave it a "50-50" chance of survival, she said.
"Lisa said it's pretty strong but the next 24 hours will be wait and see."
Ms Baker said the bird had filled its throat with sand. It would normally eat snow to cool itself down in Antarctica, she said.
"This has done the opposite."
DOC yesterday said it would not capture the bird and return it home, as it could have caught a disease by swimming through warmer climes.
DOC did not want to be responsible for introducing illnesses into the insulated Antarctic penguin colony.
Kelly Tarlton's Antarctic Encounter in Auckland houses sub-Antarctic King and Gentoo penguins, and is kept at about zero to one degree celcius, which could offer a cool respite for the emperor.
Kelly Tarlton's curator Andrew Christie today told NZPA he had spoken with DOC about what could be done with the bird.
"If something really goes wrong we would want to help out. We are working with DOC and Massey University and if they need help we will see what we can do."
However, for Kelly Tarlton's to take the penguin it would need to be kept isolated, which might not be the best thing for a wild bird, which was also a social animal.
"Our colonies are disease-free and we have to be cautious about what it would do to the status of our colony."
Mr Christie said it was difficult to say if the penguin was ill or not, as they often masked behaviour until it was too late.
Reports that it was eating sand needed to be looked at by an expert.
"They actually push their beaks into the ice to get up, so whether someone has seen that and speculated they are eating sand..."
Christchurch's International Antarctic Centre penguin keeper Mal Hackett told NZPA she though the penguin seemed lethargic when she observed it on TV this week.
She guessed the penguin swam to warmer waters because it was unwell.
Eating sand sounded like very strange behaviour, she said.
"I don't like his chances. It's is a very long way from home and isn't going to return."
The Antarctic Centre had little blue penguins, where their water was kept at 18 degrees, far too warm to house an emperor penguin.
Miss Hackett was not sure how an emperor penguin could legally be kept in captivity, and that would have to be investigated.
- HERALD ONLINE, NZPA