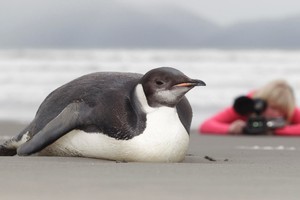 A penguin expert will be visiting Kapiti Coast's newest and most popular visitor tomorrow.
A young emperor penguin has been relaxing just north of Peka Peka Beach, 60km north of Wellington, since Monday - more than 3000km away from its Antarctic home.
The penguin, whose sex is unknown, has become a great draw card, with hundreds of people including school groups, news and camera crews and bird watchers of all ages rushing to see the rare visitor.
Department of Conservation programme manager Peter Simpson told NZPA he and an emperor penguin expert from Massey University would visit the penguin tomorrow.
"We're just going up check on it. We're not planning to intervene anyway at the moment, it doesn't warrant it - it appears to be quite healthy and surviving. But if we ever have to intervene we might microchip it."
He was hoping to collect a sample of the animal's faeces tomorrow so it could be sexed.
Locals were keeping a close eye on the bird, and had organised a roster to ensure fans flocking to the beach did not come too close and it was not disturbed by other animals.
"The Kapiti Coast District Council has put a security guard there and closed the beach off to vehicles," Mr Simpson said.
Arrival of the bird on the coast had sparked massive international attention, with Mr Simpson receiving worldwide inquiries.
"I've had several calls from Australia, I've had emails from all around the world."
The story had even made it to the front page of a Swedish newspaper, as well as coverage by the BBC, he said.
The only previous recording of an emperor penguin in New Zealand was at Southland's Oreti Beach in 1967.
To get to the Kapiti Coast, the penguin swam about 3200km, but DOC intends to let nature take its course and will not be capturing the bird and returning it home.
Mr Simpson said the penguin could have caught a disease by swimming through warmer climes, and DOC would not want to be responsible for introducing illnesses into the insulated Antarctic penguin colony.
"We are going to let nature take its course," he said. "It roamed here naturally. What is wrong with that?"
He said he hoped the bird would find its own way back -- particularly as it started to become hungry. The penguin appeared to be healthy and well fed, and while it had been resting on the sand during day, it had apparently been taking to the water at night.
Emperor penguins are the largest penguins, adults reaching more than a metre tall and weighing up to 30kg.
They feed on fish, krill, squid and a wide range of marine invertebrates and can dive deeper than 500m and spend 11 minutes underwater.
- NZPA