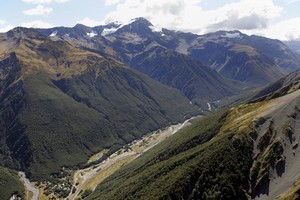 The body of a truck driver has been trapped for more than nine hours in the wake of a crash west of Arthur's Pass this morning.
Greymouth police said the man's truck and trailer plunged down a gorge on Otira Highway in "appalling" weather at about 6.30am.
Emergency services this afternoon said steep terrain was making it difficult to free his body.
Constable Brett Currie said special equipment would be brought in aid the recovery.
"The driver is trapped in the cab of the truck. Heavy lifting equipment is being brought in to help extricate the man's body."
Constable Currie said police believed the driver was the only person in the truck, but would not know for certain until the wreckage is lifted.
It was too early to say what caused the crash - though the man had been dealing with difficult weather conditions, he said.
"The weather conditions were appalling at the time and we don't know if this was a contributing factor.
"We'd certainly like to hear from any other people who were using the same section of road around the time of the crash to help us with information on how the crash happened."
The section of Otira Highway where the crash happened would remain closed for the rest of the day, Mr Currie said.
Serious crash units were on the scene, along with other emergency services he said.
Arthur's Pass is about 130km west of Christchurch.

- HERALD ONLINE