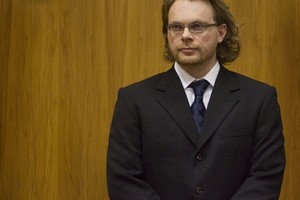 Clayton Weatherston has had his appeal against his conviction for the murder of Otago University graduate Sophie Elliott dismissed.
The 34-year-old Otago University tutor was sentenced to a minimum 18 years in prison in 2009 for the murder of his ex-girlfriend Elliott - who he stabbed more than 200 times in her parent's Dunedin home in 2008.
Weatherston had argued he was provoked by the 22-year-old student into killing her.
An emotional Lesley Elliott read a statement to the Herald this morning in which she said that the Court of Appeal decision had been greeted with relief.
"Anyone who has read our recently released book 'Sophie's Legacy' will release the appeal court judges came to the right conclusion.
"The family is relieved the judicial side of our loss is finally over.
"While we appreciate all the support we have received from the media, we would ask that our privacy is respected today so we can reflect on what has been a harrowing ordeal over the past three-and-a-half-years."
The family of Clayton Weatherston could not be contacted.
Weatherston's lawyer Robert Lithgow QC told the Herald "rather than react in disappointment" he would need to read the Court of Appeal's decision thoroughly and then consult with others before making any decision on a possible further appeal to the Surpreme Court.
Weatherston's appeal against his conviction was on grounds related to Justice Potter's summing up and directions to the jury, and alleged misconduct by the prosecutor at trial.
The appeal also focussed on the allegation his provocation defence was undermined by media reports during his trial.
The use of photographs of Ms Elliott's wounds as exhibits in the trial was also challenged.
The Court of Appeal dismissed all grounds of appeal.
- Herald online staff