The frenzied murder of Sophie Elliott by ex-boyfriend Clayton Weatherston horrified a nation. Today, her mother Lesley Elliott releases her story in the book 'Sophie's Legacy.' Here are extracts: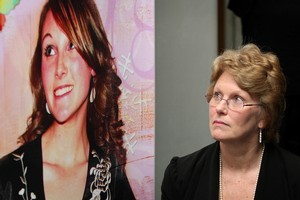 I knew that Wednesday, 9 January 2008 was going to be a day of mixed emotions as I was helping Sophie with her final packing before she shifted north to Wellington.
She had secured a position at Treasury as a graduate analyst and like her I was excited at the prospects this fulltime job offered.
But this excitement was also tinged with sadness. Sophie was my youngest child and only daughter. Her two brothers, Chris, seven years older and Nick, 11 years older, had already left home to make their way in the world and were living in Melbourne and Sydney respectively.
There was no doubt I was going to miss Sophie terribly. With two boys in Australia and my husband managing the medical laboratory at Dunstan Hospital some 200km away, Sophie and I became more than mother and daughter. We were also friends who shared an extremely close relationship and tomorrow she would be on her way to Wellington, leaving me very much alone.
But our cherished time together was soon shattered in the cruellest way imaginable.
Our home, nestled into a peaceful setting atop a hill and surrounded by beautiful trees and shrubs, overlooks Dunedin Harbour.
The day dawned, the sort of day to really lift one's spirits. We were up early and I helped Sophie make some semblance of order in her bedroom. There were clothes everywhere.
While she got on with packing her clothing, I wrapped fragile things like mirrors, her television set and the like, and boxed them.
Together we carried the full cartons downstairs ready for the removal men who were coming later. Sophie was dressed in a denim miniskirt, white shirt and shirt-sleeved white cardigan. She looked gorgeous, as she always did.
At one stage I walked past her bedroom door and noticed her putting on makeup.
"Are you going out?" I asked. Sophie had a reputation for being late but on this occasion, her last chance to be with her closest friends, she wanted to be on time for a pizza together at the beach later that day. She knew with all the packing ahead she should take the chance to get ready, even if the meeting was hours away. She looked up and said something endearing, though I can't for the life of me recall what it was.
However, it was enough to bring me to tears.
Sophie asked me what was wrong and I told her I was going to miss her so much. She said she would come home to visit regularly and had even arranged to be here for Easter. She came over and gave me a big hug.
That was the last hug we had.
A few minutes later I was in the kitchen having just listened to the midday news on the radio. There was a knock at the door. I looked out the window and couldn't see a car in the drive so peered around to see Clayton Weatherston standing there.
I was surprised as he had always parked in the driveway before. I opened the door cautiously. He had a grin on his face. "Is Sophie in? I have something for her."
Sophie had heard the knock and was on the upper landing. She mouthed down to me, "Who is it?" I mouthed back that it was Clayton. She shrugged her shoulders and raised her eyes to the ceiling but continued coming down the stairs.
I opened the door wider and he came in. I didn't hear what he said but recall Sophie saying she was really busy and running late. If he wanted to talk it would have to be in her room while she continued packing.
I returned to the kitchen and then remembered his recent assaults on Soph. I began to shake and wondered what I should do.
Sophie's bedroom is directly above the kitchen and normal conversation can be heard as faint murmuring with any raised voices heard easily.
I felt apprehensive and instinctively turned off the radio. I didn't want to interfere as I knew Sophie would be angry with me. I listened but I couldn't hear anything, not even a murmur.
I stood at the bottom of the stairs and still heard not a sound. It wouldn't have been more than five minutes when I heard the bathroom door close and Sophie appeared in the kitchen. I said, "What's going on?"
Sophie said, "I don't know what he wants. He's just sitting there not saying a word."
I told her to get rid of him as she was running late and had heaps to do before going out. I suggested that maybe he just wanted to make amends over the assaults and ensure she wasn't going to report him to the police. The toilet flushed and Sophie said I was probably right and she would get him to go.
She went up the stairs and I heard the door close. This was followed by a terrible scream and Sophie shouting, "Don't Clayton, don't Clayton."
I tore up the stairs and heard Sophie screaming and screaming. It was the most ungodly noise.
I kicked and belted at the door and told him to open it but he didn't. I had to get in so raced back to the kitchen to get a meat skewer and my cellphone. And as I raced back up the stairs I dialled 111, but have no recollection of doing so.
The door handle had a small hole in it as a safety measure to release the locking mechanism. While I was trying to steady my hands to get the skewer into the tiny hole, I could hear a rhythmic thumping.
I immediately thought Clayton was raping Sophie on the bed and it was the headboard banging against the wall. She was still screaming and screaming. It just went on and on.
I heard Sophie make two gasping sounds - then no more noise other than this horrible thumping.
On getting the door open I saw poor Sophie lying on the floor and I knew instantly she was dead.
Weatherston was kneeling, sort of straddled over her, stabbing her violently in the chest. Not pausing, he continued stabbing Sophie with his right hand while pushing the door closed with his left. He never said a word.
The right side of Sophie's face and neck had been viciously stabbed and she looked strange.
Although the room was already covered in blood, Sophie was a stark white colour. You don't go white that quickly when you die but the savagery of his attack was such that Sophie had lost a massive amount of blood very rapidly. Her major arteries and veins had been severed and the forensic pathologist described the blood loss as "torrential bleeding that was inevitably lethal".
On the 111 call I can be heard scratching to get the skewer into the door handle, opening the door and being confronted by the unimaginably horrible sight. You then hear me screaming, "He's killed her," before hearing the door being shut.
The police call taker told me to leave the house. Sophie was by then beyond help so I rushed downstairs and fled along the driveway towards the street. I vainly thought of who could help, where could I run to?
The house next door was unoccupied and the couple living directly opposite were medical professionals, barely ever home. Another neighbour is an ex-policeman and in my panic I tried to make for sanctuary there. But I only made it to the end of the drive. My legs could carry me no further and I collapsed on to the grass verge.
I know I was being irrational on the phone. I've had to sit in court and endure it being played back.
It was simply horrendous and I don't ever want to hear it again.
If anyone is under any illusion about the evilness of what that man was doing to my daughter, they would be shattered hearing my conversation with the police control room communicator. It was so compelling that after it was played at the depositions there wasn't a dry eye in the courtroom.
When it came to the High Court trial, Weatherston's counsel, Judith Ablett Kerr, would successfully argue for the 111 call evidence to be suppressed from the jury - not because it was too emotional to listen to, but because it would be overly prejudicial to her client.
I find this difficult to comprehend. What happened and what was said was reality. This took place. But it was too prejudicial? Unbelievable!
Normally I'm level-headed, rational and calm in a crisis. But this was so different.
Sitting on the grass verge by the roadside, it seemed ages before the first constable arrived. I know I had yelled at the call taker to hurry up.
I know how long it takes to get to our place from town and as the minutes ticked by, the time dragged slowly. Because we live in a no-exit, few cars or people pass by.
In those excruciating minutes no one came into sight. I was all alone, terrified, agonising that I couldn't help Sophie and, on reflection, vulnerable.
There I was, collapsed on the grass shaking and crying uncontrollably, right behind Weatherston's car.
Curiously he'd not only parked his car on the roadside but had left it facing uphill towards the no-exit part of the street. Obviously he had given no thought to escaping quickly.
It doesn't bear thinking about what a dangerous situation I would have been in had he returned to his car before the police arrived.
When Constable John Cunningham arrived on the scene I even yelled at him. He was alone and quickly asked me what happened and where.
The last I saw of him he was running down the drive.
At that time it didn't register with me that this unarmed officer was going to confront a clearly deranged person with a large knife.
On reflection, John shouldn't have even gone into the house alone but he thought it was "just another domestic". I heard him give his evidence and the way he handled the situation is a credit to himself and the police. In that evidence he said that after I'd told him Sophie was dead he went straight to her bedroom and tried to get him. The door was locked so John called for it to be opened or he would kick it in.
To me Weatherston's demeanour then, and what he later was reported to have said at the police station, is quite extraordinary given what he had just done to Sophie.
I've been told that he was lucid, coherent, calm and not agitated. The same couldn't have been said of me.
The next thing I remember is frantic activity. Within moments a St John station wagon arrived with resuscitation gear.
I remember pleading with the paramedic to save Sophie but I absolutely knew she was dead. I knew from the moment I opened her bedroom door. Then an ambulance and about five more police cars arrived.
If I yelled at any of them, and I'm sure I did, I apologise.
An ambulance officer came to me and I said my mouth was dry. She brought me a bottle of water. I asked her to tell me Sophie was dead; I felt I just needed confirmation.
Much of that time is a blur to me but some things are quite vivid. It was the strangest sensation: I could see people yet I couldn't see; they were shapes rather than distinct people. I saw the ambulance officer talking to others and I now know they were discussing whether or not to tell me.
The paramedic first on the scene had come outside so it was pretty obvious that Sophie was beyond help. I knew then that I'd lost my daughter - my friend.
Ambulance staff wanted to take me to the hospital, but I refused. Despite being in shock I was steady in my resolve to stay at my home.