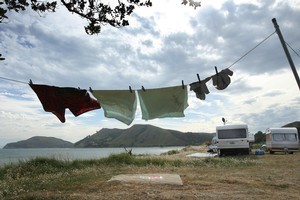 A bill aimed at changing the nasty habits of some freedom campers passed its first reading in Parliament today.
"Many visitors stopping along our roadsides and rest areas look out at more than a spectacular view - too often they also face a pile of human waste," Conservation Minister Kate Wilkinson said when she launched the debate on the Freedom Camping Bill.
"This is often a gift from a visitor who hired a cheap campervan with no toilet and used a rest area or lookout overnight to avoid camp ground fees."
The bill will give councils and the Department of Conservation new powers to decide where camping is allowed and where it is restricted to campervans with toilets.
It will set up an infringement regime with offenders being ticketed and fined $200 - or up to $10,000 for serious offences like emptying a campervan sewage tank in a rest area.
Ms Wilkinson said at present New Zealand's 67 districts all had their own by-laws, and the system wasn't working.
Under the bill, there would be nationally consistent signage and practical enforcement provisions.
"This is particularly important as we gear up for the Rugby World Cup - 85,000 visitors are expected to arrive and for many of them it will be the holiday of a lifetime," Ms Wilkinson said.
"We want to protect our reputation - inappropriate camping and toileting does this country a disservice and we don't want this behaviour to be lodged in anyone's memories when they get home."
Ms Wilkinson said the number of freedom campers had doubled over the last decade to 110,000 international visitors and more than 40,000 New Zealanders.
Labour's Ruth Dyson said her party would support the bill on its first reading but a select committee would have a lot of work to do on it.
"The devil is in the detail and if we don't get this right we are going to cause problems," she said.
"This is really empowering legislation for councils to determine where freedom camping isn't allowed - that's quite a big step for New Zealand to take, we often pride ourselves in our welcoming attitude to those who really want to get out and about and see the best of our country."
Green Party MP Kevin Hague said he was a freedom camper and he acknowledged there was a problem.
"While there are some ratbags who don't care, for the most part these people who rent these campervans would look after our environment if they could," he said.
"The smart approach is to make it easier for them to do that by creating more places that have toilet and rubbish facilities where campervans can spend the night."
Mr Hague said the tourism industry had been working on that approach, but the Government hadn't given it time to develop and had stepped in with a bill.
"This is a punitive approach, it seems less likely to work and it could be counter-productive," he said.
"There is almost no hard evidence about the size of the problem. I suspect it is extensive but actually relatively small."
The bill passed its first reading 108-10 with the Greens and independent MP Chris Carter voting against it.
It has been sent to the local government select committee for public submissions.
- NZPA