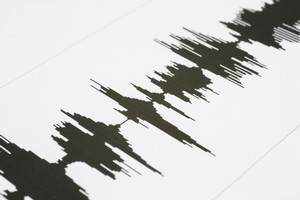 A large aftershock which rattled Canterbury this morning caused stock to fall from shelves and forced some shops to close, but did not cause any significant damage.
The earthquake, measuring 5.5 on the Richter scale, struck near Rolleston, 20km southwest of Christchurch at a depth of 15km shortly after 9am, GNS Science reported.
Canterbury Earthquake Recovery Authority (CERA) spokeswoman Catherine Delore told NZPA the fact that it was centred in Rolleston and 15km deep was reflected in the lack of damage.
"We have a number of indicator buildings in the central city that we check after a sizeable aftershock and the engineers have been out having a look this morning and there isn't anything substantial or additional in terms of damage."
There would have been some additional debris that fell down from buildings and some widening of cracks, but there had not been anything of significant concern, she said.
The Warehouse in Rolleston closed for a few hours after stock fell off shelves during the jolt and New World Rolleston also closed immediately after the tremor while staff cleaned fallen stock.
Warehouse stockroom worker Jo Edmond told The Press that store was a mess and she was "a little bit nervous" after the quake.
Police had not received any reports of damage so far but some officers reported having items knocked off shelves in their homes, a Police Southern Communications spokesman said.
More than 2000 people reported feeling the earthquake on GeoNet's website.
One person in Templeton reported the quake as "heavily damaging", one in Rolleston reported the quake as "damaging", and 59 people reported the quake as "slightly damaging".
Herald reporter Jarrod Booker described the aftershock, which struck at 9.09am, as a "heavy, violent" shake and said it lasted around 20 to 30 seconds.
Booker said the aftershock was reminiscent of the major earthquakes which hit the region in February and last September.
"It had that same frightening feel, initially, of the big quakes... it just kept building," he said.
Riccarton resident Annette Pendergast told nzherald.co.nz she was surprised how long the aftershock lasted.
"It went on for a long long time. It was the longest I've ever felt one.
"I don't usually have time to reach a doorway but I was in a doorway today. I think it was roughly 30-40 seconds."
Lines company Orion said there had been no power outages reported as a result of this morning's aftershock.
According to the website Canterbury Quake Live, which plots data provided by GeoNet, today's aftershock is the sixth largest earthquake to strike the Canterbury region since the current spate of seismic activity began on September 4 last year.
- with NZPA