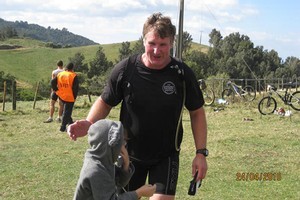 Ian Winson should be helping to organise the race that gave him "a purpose and sense of belonging". Instead, he is fighting for his life after losing his legs in the weekend's deadly Auckland watermain explosion.
Mr Winson, 47, a network engineer for Watercare, was seriously injured when a gas explosion tore through a tunnel he and colleague Philomen Gulland were inspecting in Onehunga on Saturday morning.
Ms Gulland, a 48-year-old Canadian-born mother of two, was killed and Mr Winson was blown out of the tunnel and lost part of both legs.
Last night, he was in a serious but stable condition in Auckland City Hospital's intensive care ward.
On Saturday, contractors were about to connect a new watermain to an existing one at the intersection of Mt Smart Rd, Victoria St and Athens Rd when the blast occurred.
Methane gas was found in a pipe at the scene of the explosion but the source of the gas and the cause of the explosion have not been confirmed.
In 2005, Mr Winson created the Lydiard Legend Marathon to honour running coach Arthur Lydiard.
The race follows the famous route in the Waitakere Ranges where Lydiard used to train his runners, including Olympic multi-gold winner Peter Snell.
Creating the race made a big impression on Zimbabwe-born Mr Winson.
"It has given me a purpose and a sense of belonging in New Zealand," he told the Herald last year.
He set up the race - one of the toughest on-road marathons in the country - because he didn't want Lydiard or his course to be forgotten.
Despite it being a tough race, he was determined it wouldn't be for only elite runners.
"It's for anyone who puts in the right training, just as Arthur would have wanted."
Mr Winson is chairman of the charitable trust that now organises the race.
Yesterday, friends said he was "a bloody good guy" who was full of life.
Sharon Ducker, who met Mr Winson three years ago, said she was "absolutely flattened" when she heard the news.
"For someone who is so active, it just seems wrong for something like this to have happened to him. Running was what he lived for."
Mrs Ducker said Mr Winson and his wife, Katherine, had two primary school-aged children.
"They're a lovely family. I have no idea how they would be dealing with something like this. He was always running after his children."
Watercare Services chief executive Mark Ford said he was "devastated" by the explosion and the death of Ms Gulland, whom he described as a "vibrant and important" member of staff, as the company's network maintenance planner.
"She was highly respected and a very much trusted team member, a very deep and warm personality.
"I can tell you I was on a different floor but I could hear her laughter from my floor."
Mr Ford said she was extremely popular. "This is a very sad day for Watercare."
Ms Gulland's two children, teenagers Emma and Cameron, were understood to be with their father last night.
She came to New Zealand from British Columbia six years ago. Like Mr Winson, she was a fitness buff and was a regular on the 100km fundraising Oxfam Trailwalker.
- additional reporting by Amelia Wade