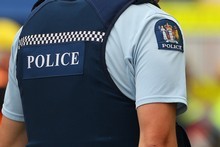 A little boy in a small East Coast town may have been chasing his puppy when he fell into an unused water tank and drowned.
Michael Te Kapurangi Walker-Mitchell of Whatatutu, who was known around the village as a playful and cheerful young boy, had just celebrated his fourth birthday.
But he disappeared on Saturday evening, and after a search lasting several hours, his body was found in what is understood to be an in-ground water tank.
It is not known whether the tank, which served an old house that had been pulled down years ago, had an adequate cover.
"All the kids knew they are not supposed to be over there," said Michael's grandmother, Debbie Mitchell.
"Michael knew it was dangerous - we had warned him about it - but I think his puppy ran over there and Michael followed him.
"He was a beautiful boy, a curious and active little boy who was always very happy and always smiling."
Mrs Mitchell said the last time she saw Michael was just before 4pm on Saturday when he came home with a toy gun that belonged to one of the neighbours' children.
"His dad told him it didn't belong to him and to take it back to the neighbours a couple of houses away," she said.
Michael, wearing black tracksuit pants and a camouflage shirt, was barefoot when he walked out the door with his puppy, Diego.
He did not come home.
Mrs Mitchell said she was not too concerned at first when the little boy did not return immediately as everyone in the town, about 50km northwest of Gisborne, was whanau or knew one another.
"He would always come home at about 4.45pm or 5pm for tea, or someone would ring to say, 'He's over here, we can bring him back'," she said.
"We all keep in contact here when it comes to our children. He had aunties and uncles who were always looking out for him."
But an hour later, it was getting dark and no one had seen Michael.
"We started ringing around, we got in touch with all the young ones around here. My niece went out to start looking for him."
Up to 40 people in the town helped with the search for Michael.
Gisborne police, with a helicopter with infra-red search equipment, and the Fire Service were called about 8pm.
His body was found about midnight on Saturday - less than 100m from his home.
Mrs Mitchell said Michael had an older sister. He went to pre-school in nearby Te Karaka and was looking forward to going to school.
She said whanau were preparing Mangatu Marae in Whatatutu for Michael's tangi but were awaiting his body, which was taken to Waikato Hospital for an autopsy.
Mrs Mitchell said it was not known what was happening with the old water tank but she wants it to be permanently covered.
Senior Sergeant Moera Brown of the Gisborne police said Michael's death had been referred to the coroner's office.
By James Ihaka

Email

James