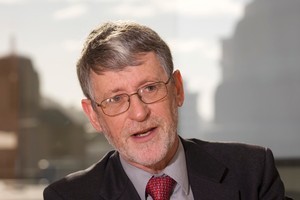 John Whitehead has been made a Companion of the New Zealand Order of Merit for services as Secretary to the Treasury.
He has just left the Treasury after more than eight years as its head to take up a role as executive director of the World Bank in Washington.
He said he felt very privileged by the honour, which he saw as recognition of the many people who had served the public at the Treasury during his time at its helm.
Whitehead grew up in Christchurch and trained as a mathematician and economist.
He joined the Treasury 29 years ago and has worked there since, apart from periods seconded to the Prime Minister's office, in David Lange's day, and to the High Commission in London.
In the 1990s he was the key Treasury official working on the Fiscal Responsibility Act, one of the pillars of New Zealand's macro-economic framework.
Since succeeding Alan Bollard as Treasury Secretary in 2003 he has been the principal economic adviser to both Labour- and National-led governments, through the challenges of both boom and bust.
Whitehead recalls the global financial crisis as a stressful but also professionally fascinating period. "I guess in my worst nightmares I had never imagined signing $125 billion worth of government guarantees. Which I did."
The 59-year-old husband and father of four grown children says his Anglican faith is important to him.
His last act as Treasury Secretary was to launch a Living Standards Framework designed to ensure that the Treasury, when formulating its advice, thinks in a more systematic way about impacts, not just on economic aggregates like GDP but on well-being in a much broader sense and about equity across the community and between generations.
His new role at the World Bank would also be about promoting higher living standards, he said, but this time representing a diverse constituency of countries - New Zealand and Australia , Korea, Cambodia and nine Pacific Island countries. He takes up the new post at the start of August.