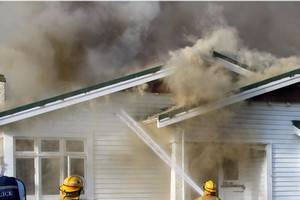 A New Plymouth prison guard was worried he would get into trouble for leaving a minimum security prisoner unattended as he pulled a trapped woman from a burning home.
However, the Corrections Department is praising Carl Jones for his quick-thinking, saying he did the right thing in saving a life.
Mr Jones was escorting a minimum security prisoner on a compassionate house visit to his sick grandmother yesterday when the house next door burst into flames, The Taranaki Daily News reported.
He jumped the fence, booted the door down and ran into the smoke-filled house. He heard a faint voice calling and saw some bare feet through the thick smoke.
The woman had been trying to put a stove fire out but was trapped by smoke and flames. He helped her outside and then went back inside the house to turn the stove off and extinguish the flames using buckets of water.
The woman suffered minor injuries and smoke inhalation and was taken to hospital for treatment.
New Plymouth prison manager Peter Madsen said Corrections was extremely proud of Mr Jones' actions.
"He had to make a split second decision, and he's saved the woman's life -- he absolutely made the right call.
"That training kicks in automatically when you are faced with danger. He's done a brilliant job, and we're thankful to have him in our service."
It is believed an unattended frying pan started the blaze.
- NZPA