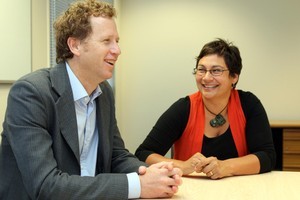 The Greens have added some fresh names to their official list for the election.
Metiria Turei and fellow co-leader Russel Norman fill spots one and two on the Green Party list, with the party's five other current MPs who are standing again also in the top eight.
Canterbury's Eugenie Sage - a former regional councillor, is the highest ranked of the new female faces, at six on the list.
Wellington's Jan Logie, who stood for the Greens in the recent Mana by-election is at number nine.
And experienced local body politician Denise Roche from Auckland is on the list at place 11.
The party has ranked 30 candidates for the November general election and has an additional 14 candidates currently confirmed to contest the party vote.
"We have a good mix of experience and new energy and the 2011 list completes the move to a second generation of Green MPs," said co-leader Metiria Turei.
Full list:
1. Metiria Turei
2. Russel Norman
3. Kevin Hague
4. Catherine Delahunty
5. Kennedy Graham
6. Eugenie Sage
7. Gareth Hughes
8. David Clendon
9. Jan Logie
10. Steffan Browning
11. Denise Roche
12. Holly Walker
13. Julie Anne Genter
14. Mojo Mathers
15. James Shaw
16. David Hay
17. Richard Leckinger
18. Aaryn Barlow
19. Jeanette Elley
20. Sea Rotmann
21. Michael Gilchrist
22. Dora Langsbury
23. David Kennedy
24. Tane Woodley
25. Joseph Burston
26. Mikaere Curtis
27. Shane Gallagher
28. Saffron Toms
29. Steve Tollestrup
30. Jack McDonald
- Newstalk ZB, NZ Herald staff