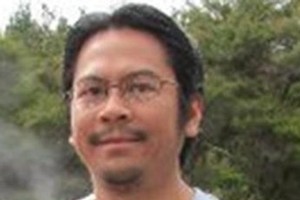 Hundreds of people gathered together today to mourn the man killed in the terrifying tornado that struck Auckland's North Shore recently.
Benedict Dacayan, 37, died when the portable office he was working from at the old Placemakers site in Albany was picked up and thrown across a concrete carpark.
At a moving service at St Joseph's Catholic Church in Takapuna his wife Jeanette paid tribute to her "soul mate".
She said arranging his funeral reminded her of when they planned their wedding together.
"Choosing the church, choosing the flowers and the songs... But now instead of joining me, he will be joining God," she said.
His children Benedict Junior, 11, and Beatrice, four, sat with their mother as Mr Dacayan's brother spoke of their childhood together in the Philippines.
Paul Dacayan thanked the people who tried to save his brother, including student nurse Sophie Bond.
"I appreciate you for that. I thank you for that," he said.
"I can't say anything bad about my brother.... everything was perfect."
Mr Dacayan and his family moved to Auckland in 2006 and he started working for Fletcher Construction. Many of his colleagues, some who were at the site when the 200km/h tornado hit, went to the service to say their goodbyes.
His manager TC Tan said Mr Dacyan a modest and caring person who was creative and had a good sense of humour.
"He always had a solution. I'm certain his smile will be with us for a long, long time."
Mr Dacayan's family and friends released white helium balloons outside the church before he was taken away for a private burial.