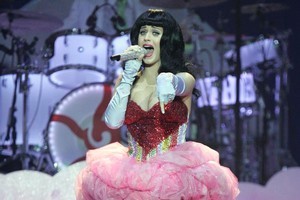 A woman injured in a fracas in a dance area at the Wellington concert of pop singer Katy Perry says she will lay a complaint with police today.
One person was taken to hospital after Tuesday night's concert and several others were treated for cuts and minor injuries after a scuffle in the mosh pit - an area near the front of a concert for dancing.
A St John spokeswoman told the Dominion Post some of the attackers were wearing stiletto heels, and appeared to have been using them as weapons.
Alex White, 24, of Porirua, left the event bloodied and battered after a group of women began to assault her and sister Tori, 17, moments into Perry's second song.
Ms White said it was "appalling and disgusting" that such behaviour could be allowed to happen at a concert attended by so many young people, and security should have stopped it, she said.
No arrests were made at the concert.
- NZPA