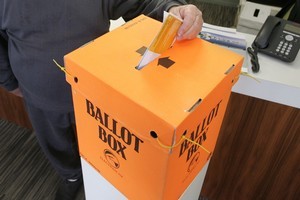 More than 500 voting packs for the Howick ward byelection have been stolen from a NZ Post vehicle.
A police report has been lodged by NZ Post, which is also conducting an internal investigation into how the bag disappeared.
"The amount of mail in the overflow bag is not known, but the contents are believed to include 522 voting packs for the Howick Ward local body by-election," said Matt Riordan, postal delivery general manager.
This is the second time in two local body elections that voting papers have vanished in the hands of NZ Post.
Some residents in east Mangere did not get their postal ballot papers for the Super City election last October, although electoral officer Dale Ofsoske said they had been handed to NZ Post.
The Howick ward byelection is being held after the resignation of councillor Jami-Lee Ross, who became a member of Parliament after winning the Botany parliamentary byelection in March.
Mr Riordan said he was "very disappointed" that NZ Post's tight security processes had not been observed in this case.
The incident had prompted a process review and a disciplinary process has commenced against the postie.
Voters affected live in Udys Rd, Beachdale Cres, Cobana Place, Nevada Ave, Jade Ave, Pooley St and Carmel Ave in the Pakuranga area.
Replacement voting packs should be delivered within the next two days, Mr Riordan said.
Auckland Council electoral officer Bruce Thomas said the missing packs had been identified and voided to bypass duplicate voting.
About 92,000 electors in the Howick ward have until midday on May 27 to cast their vote.
"Affected residents can expect to receive their documents by Friday, and will still have plenty of time to send in their postal votes," he said.
Mr Thomas said it appeared to be an opportunistic theft without the thief knowing what was in the bag.
He did not think therre was any intention of electoral fraud.
"All the correct systems were in place to identify which voters didn't receive their voting documents and we have now rectified the problem," Mr Thomas said.
He said the Auckland Council has raised the delivery issues with NZ Post.
Six candidates, Penny Bright, Maggie Burril, David Collings, Ram Parkash, Dick Quax and Wayne Young are vying for the Howick seat.
Almost 91,000 voting documents have been delivered since last week.
Those who have not received their voting documents by Friday should contact the electoral office on (09) 973-5212.