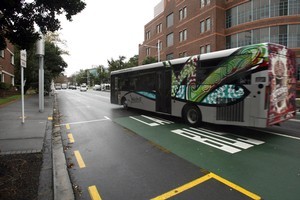 Transport officials are claiming success in their bid to stop motorists driving in Auckland bus lanes.
There were 2907 fines dished out in March, up from 2305 the month before.
But an Auckland Transport spokeswoman said the number of fines for the past six months was 906 fewer than for the same period a year earlier.
The value of fines for the past six months was almost $2 million, compared with more than $2.1 million for the same period the year before.
"Auckland's motorists are becoming much more familiar with rules around bus lanes," she said.
The $150 fines drew public outrage last year, with motorists crying foul over confusing rules.
They could be revamped as part of a review into High Occupancy Vehicle lanes.