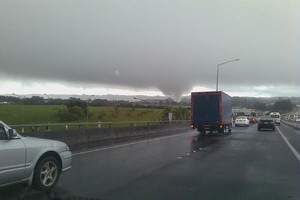 More tornadoes could strike the upper North Island tomorrow, Metservice warns.
Fletcher Construction worker Benedict Dacayan, 37, was killed and 14 others were injured when a tornado tore through Albany on Auckland's North Shore on Tuesday.
The Insurance Council said the damage from the disaster is likely to climb to tens of millions of dollars.
MetService Chief Forecaster Peter Kreft said a storm system set to reach New Zealand tomorrow has all the ingredients to create another tornado.
"Only a few days after the Albany tornado, several lines of thundery showers are expected to cross the north and west of the North Island. As of now, tomorrow ticks all the boxes. Unlike Tuesday, we can already identify tornado potential in these lines of showers," he said.
It is impossible to predict when and where a tornado would occur at this stage, Mr Kreft said.
Metservice would issue regular alerts tomorrow updating the danger of a tornado developing, he said.
"If tornadoes and/or severe thunderstorms look increasingly likely as time progresses today and into Friday, we will issue a Severe Thunderstorm Watch or Severe Thunderstorm Warning to provide more specific information."
Weatherwatch.co.nz head analyst Philip Duncan said there was a low risk a tornado could form out of thunderstorms predicted to strike tomorrow.
"In coastal areas of the upper North Island particularly there is a risk. I can't rule out that there could be one."
Mr Duncan said a sustained period of unusually warm and humid weather across New Zealand was making tornadoes more likely.
Forecasts predict the same weather patterns to continue into next week, he said.
"This weather that we have at the moment is incredibly unstable."