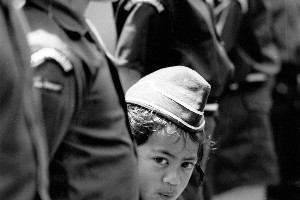 Junior was only 3 years old when his dad, an Otara Pacific Islands Church leader, enlisted him in Boys' Brigade, 57th Auckland Company.
Every Anzac Day, he and the other boys would get up early.
"We'd be forced to wake up at three in the morning, and put on our No 1 dress uniforms."
About 12 of them would be crammed into an old Chrysler Valiant, and taken to the Otahuhu Monument down on Great South Rd.
"In Boys' Brigade, you had to wear shoes. But being Islanders in Otara, we'd just have bare feet most of the time. Even for a couple of Dawn Services.
"Five o'clock in the morning, marching down Great South Rd in our feet. I guess it was cold, but you're kids, you don't worry about that sort of thing."
Junior was 6 when this photo was taken, his long hair tied back under his peaked cap.
It was 1986, and he and the other Otara boys were preparing to march up Auckland's Queen St to mark the Boys' Brigade's centenary in New Zealand.
He didn't get his hair cut until he was an adult, in a traditional hair-cutting ceremony.
By then, he had made some big decisions in life. Some of his friends, even some of those in Boys' Brigade, had patched up with the Tribesmen, or been locked up in prison.
"I could've done that - but I decided not to."
Inspired by the Brigade, by his church and by his parents, he decided to stick with the church. Aged 30, he is now Otara PIC Cook Island youth president.
And he is a fulltime musician and entertainer, performing with Polynesian cultural group Soi Fua Ltd at public events and Mayor Len Brown's citizenship ceremonies in Manukau.
"Every time I do one of those ceremonies, I'll be turning to some of the other guys and saying, 'isn't that your auntie? She's been here for years - how come she's only getting citizenship now'?"
Junior was pretty small in 1986. Today, he is 1.86m tall, tips the scales at 118kg, and in his black leather jacket could just about be mistaken for one of his former friends in the gangs.
But his idea of a day out is taking his own son, 11-year-old Jaylamont, to his league games in Manurewa.
Unfortunately rugby league training clashes with Boys' Brigade on Sunday evening, so Jaylamont can't make it to Brigade often.
But on Anzac Day, Jaylamont will always put on his Boys' Brigade uniform to parade at the Dawn Service.
Just like his dad, 25 years before.