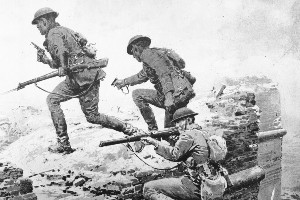 Excuse moi savez-vous ou je peux trouver beret Blyth Curly's?
That is the Google translation for: Excuse me, can you tell me where I can find Curly Blyth's beret?
Colonel Lawrence Curly Blyth died in 2001, aged 105. His ashes lie under a plaque in Cambridge, where he is described as the last liberator of Le Quesnoy.
He was not, strangely - although this is by no means the strangest aspect of this story - involved in that final assault. He is, however, a symbol of a liberation which one newspaper on November 8, 1918 described as "one of the most thrilling feats of the campaign".
In nearby Beaudignes is a street named Place du Colonel Blyth. He was awarded the French legion of honour and the French ambassador came to his funeral, where he said: "He will live forever in our minds as an honorary citizen of France, for which he has done so much."
Le Quesnoy is a tiny ancient fortified town in the north of France and on November 4, 1918, New Zealand soldiers went up the 18m-high ramparts on ladders.
Part of the reason, you suspect, that they are still so revered is that an order came down that the ramparts were to be preserved. When I told that to cultural commentator, Hamish Keith, he said: "They can't have been from Auckland."
There was a moat, and mist and smoke and the liberation of a town held for four years by the Germans. There were scenes of jubilation. From a battle account by Private Nimmo: "We got into town and were simply overwhelmed by Civvies. Laughing, crying and just about mad with joy." And once a year, on the last Sunday in April, Anzac Day is commemorated in this town. Almost 100 years later and there is laughing and crying and the town's beer supplies could be said to be happily assaulted.
The New Zealanders still come, every year, to take over the town, and to wander the cobbled squares and lay wreaths. There is not a lot to Le Quesnoy. There is a pub called the Cambridge Pub - Cambridge is Le Quesnoy's twin city and there is a bakery there, which used to be called the Le Quesnoy Bakery, but nobody could pronounce the name (it is "Le Kenwah"), so they had to change it.
The Rue Helene Clark street sign is above a building with a scrap of graffiti and ugly aluminium shutters. The only hotel in town is Chez Ahmed, Hotel le Terminus.
The rooms are what you would call basic but the restaurant is nice if you like couscous and there are, for some unfathomable reason, whizzy Dyson hand-dryers in the restaurant bathrooms while the soap dispensers in the hotel rooms gave up dispensing anything long ago.
It is a town that has a hard edge. As somebody said: The locals dress like New Zealanders.
They like their sports gear here, and a drink, rather early in the day, at least some of the regulars at Le Carillon do. But there is charm of a deshabille sort. Le Carillon is, logically, right under the bells at the town hall and I asked an early morning regular the Curly Blyth beret question. He didn't really have a clue. But: New Zealander? "Hooray!" There was a round of applause from the regulars. They said: "We'll take you!"
They wanted to take me to the New Zealand monument, a rather lovely walk along the Avenue New Zealand and then down to the ramparts. The beret is in the town hall. It was the thought that counted.
We arrived the day before the Anzac commemorations and watched two gardeners bedding up planter boxes with geraniums and lobelia and begonia. Neither had a word of English; I have two words of French. But: New Zealander? Yes, the flowers were for us. The head gardener took off his glove to shake my hand. The apprentice gardener wasn't wearing gloves so that was a just as heartfelt, if muddier, handshake.
This is both extraordinary and hard to fathom. The New Zealanders who come, year after year, struggle to explain it. Herbert Farrant, military nut and very nice bloke, is known in these parts as "Erbert" or "The General", and has been coming here for so many years that a former mayor gave him an award.
He made a speech. He noted that 'Erbert had no French at all when he first came. "His French has improved 500-fold. He had one word of French, he now has five." He is a man with a mad dream. "It's not a dream," 'Erbert said. He didn't say it wasn't mad. His dream is to build a memorial museum and New Zealand-themed hotel in Le Quesnoy.
The town has gifted the land, the General is lobbying for Wellington's help. He is an optimistic fellow, Monsieur Farrant. The Prime Minister came to town and made a speech about the ongoing ties between us and the citizens of Le Quesnoy. 'Erbert took that as a good sign.
The tourism office estimates about 400 New Zealanders visit every year - most of them come for the Anzac Day service, which includes a free lunch at the town hall for anyone who turns up. If you come here, you really must pop in, even if it's not a free lunch day. At the top of the stairs is the Giant Maori. Yes, really. He is 4m tall, and weighs 67kg and once a year he is paraded through town (he has a wicker framework and is on wheels. They said I could have a go but I think they may have been having me on.)
That would be something to see. The Giant Maori is poking his tongue out. He is much loved, apparently, because he is in the local tradition of the Bimberlot, or giant, genial clown. I asked the charming Helene from the tourism office what she thinks of the Giant Maori. She said: "He's very nice. He's good looking!"
The day Anzac Day is celebrated is also the Regional Day of the Fortified Towns which is the day the Napoleonic war nuts come out to play: all dressed up under the beating sun in their woollen replica costumes. Do not call them costumes. I did and got ticked off. They are uniforms.
Monsieur Farrant has nothing on these guys but they do get on extremely well. So well that he persuaded Capitaine Regis (otherwise known as Reggie) Surmont to allow me to fire the cannon. It is not dangerous at all but it does make a hell of a bang of a most satisfactory kind: it sets kids off crying and dogs barking. The cannon is a four-pounder, circa 1800. According to the General I am, almost certainly, possibly, the first sheila to have ever fired this cannon. I got a certificate which is, of course, in French, so I can't read it but I am pretty sure it says no such thing.
Earlier a baker and a butcher, wearing medieval-influenced get-ups, were seen having a drink at Le Carillon. They had the huff; nobody was looking at them, they said, so they buggered off for a beer. Madame at the restaurant across the square came out, shrugged, and said: "Strange city."
You could say that. The Napoleonic war nuts are celebrating one mad attempt to take over Europe; we're here celebrating the successful end of another mad attempt 100 years later.
Oh, how lovely and unexpected. A little church in the middle of nowhere, at Easter time. A very old church, built in 1338, with buckets of lily of the valley and white hydrangeas, crumbling plaster and a lavishly, lovingly made banner made and gifted by "the ladies of Christchurch" in the mid-1920s. The translation reads: "The parents of the NZ soldiers offer this banner to the church of Vertigneul in grateful testimony of the Christian care given to the graves of their dear dead by the families in the vicinity."
John Gray, the military historian gave a moving address (he got in, by my cheeky estimate, only about 36 references to his book, so I'd better put one in for fear he'll send me a "signal", which is what he calls email. It's called From the Uttermost Ends of the Earth). He noted that only the very rich would have been able to afford to come, by boat, a journey of three months, to see the graves of their dead here. This would have been the uttermost ends of the Earth. We get to see the banner those unnamed, unknown, ladies of Christchurch stitched with gratitude and tears; those who made it would never have seen it hanging here.
In the graveyard, at the back of the church, are the graves of 12 New Zealanders, and one German. Little wooden crosses and an RSA poppy are laid on each. Judith Reid, whose great-uncle, Henry James Nicholas, lies here, said his name and laid the cross. Earlier in the day a street was named for Nicholas, killed in action on October 23, 1918, in Beaudignes, a few kilometres from Le Quesnoy. The chic French mayoress wore a black leather jacket, bright red specs and silver pumps. She had been told the story of Nicholas, who won the VC, by Herb Farrant, some years ago. She grew up with the story of the liberation of Le Quesnoy but she heard it from her grandmother who, knowing nothing of life outside a small rural community, thought all people who spoke English were from England.
On the road Nicholas was killed there is a bridge and what used to be a river, now a serene stream. At the other end there are plans to build new houses.
So when the mayoress, Raymonde Dramez, realised a street with houses has to have a name, she proposed to her council that they "baptise" it Rue Henry James Nicholas and voila! Now it is done.
Judith's husband Iain said: "He was killed on an unknown road, with no name, and now it is named for him."
We all marched over the bridge and watched the unveiling, done with a bit of French pomp (chaps in white gloves and sashes) and a bit of French comedy - what looked like a linen napkin covering the sign got stuck.
In the graveyard a retired teacher played the accordion, as he does here, every year. This is the famous Lulu who turns up to entertain this lot of New Zealand troops, and so is much adored. He is either 83 or 78 according to who you ask. Warwick Mitchell, who has come from New Zealand to play the pipes for the last five years says that when Lulu dies, he will try his very best to come for the funeral. Lulu, incidentally, is said to not like the Le Quesnoyans. Why not? "Well," said somebody, as though it was bleedingly obvious, "he comes from Valenciennes".
A memorial had been made on Rue Henry James Nicholas: the silver fern laid out in white painted bricks, the New Zealand flag at one end, the French flag at the other. The memorial had been finished the day before. Judith Reid wore a string of pearls. They once belonged to Alice, Henry's sister and had come to be worn here at the extremite du monde: the other extreme of the world. Henry died aged 26 and he left behind a lady friend, Ethel, who never married. She kept his photo by her bed all of her life, and her last letter to him: Returned, "deceased".
At the war cemetery at Romeries there is a grave inscribed, "A. Hewitson, West Yorkshire Regiment, 22nd October 1918". Who knows if we're related, but it seemed only right to leave him a poppy.
Why do they come here, the New Zealanders, year after year? "It's not overrun with pissed Kiwis, like Gallipoli," said a couple of sober-for-the-moment Kiwis. Dan Finnigan said, "I can't think of a quick answer to that." He gave a good longer answer. His great-grandmother, born in 1850, was baptised in a church in Hamburg, somehow made her way to New Zealand. That church was later bombed by "at least one of her grandsons" from a Lancaster bomber, in World War II. "It shows the futility of the whole thing."
What we are doing here is commemorating futility, certainly, but also celebrating a strange, and strangely moving connection between a small town and a small country at the other ends of the Earth from each other. On the day Nicholas' street was baptised, the German who lies in the churchyard at Vertigneul had a cross laid and his name called - along with those of the New Zealanders who lie beside him - by a French language student from Mt Maunganui. Warwick Mitchell said, "Peter Jackson should bloody well learn about the story."

Rifles to the rescue
The storming of Le Quesnoy - one of the final acts of the First World War I - took less than a day.
For four years the medieval town had been occupied by German troops, secure behind a moat and 18m-high ramparts.
Soldiers with New Zealand's Rifle Brigade settled on an ancient method to crack the fortress defences. A platoon led by Frank Evans of Wellington rushed the wall with a fire brigade's scaling ladder. At first, German machine-gun fire forced the raiding party to take shelter. Evans was killed. On the afternoon of November 4, 1918 the New Zealanders had another go, supported by mortar fire, which pushed the Germans into shelters.
Leslie Averill, the brigade's intelligence officer was "halfway up the ladder before the top reached its resting place on the wall", the brigade's history relates. At the top he met a stunned German soldier who bolted. Fifteen minutes later, the New Zealanders opened a town gate and the Rifle Brigade entered Le Quesnoy. By nightfall, the German garrison had surrendered and grateful French citizens cried: "Nous sommes sauves, " - "We are saved."
Michele Hewitson visited Le Quesnoy with assistance from Cathay Pacific.