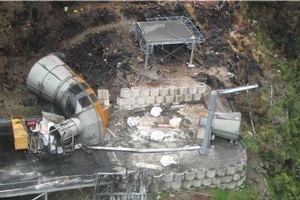 John Key says the revelation a body may have been identified inside the Pike River Mine fundamentally changes little.
The Prime Minister says the Government has spent $11 million trying to get access into the mine and it will continue to try to achieve that.
Although there has been speculation some of the men may have survived after the first blast on November 14, Mr Key says the Chief Coroner made it clear when he made his finding that the 29 men died instantly.
The families of the victim's were told on Wednesday that footage taken through a borehole into the mine appears to show an intact body, and also that a equipment box containing firefighting equipment had been opened in the mine, raising the prospect that one or more workers survived the initial blast.
"The environment in the mine, as I understand it today, it still unstable and I can't risk people going into the mine and threatening their own lives just because a body may or may not have been identified," Mr Key says.
"That would be wrong."
Mr Key says his sympathies are with the families, as it is a very difficult time.
Meanwhile, New Zealand Mines Rescue says it remains committed to assisting Pike River Coal with the recovery of the remains of the 29 men, however the laser imaging and camera footage confirm there appears to be a massive fall blocking the main drive.
"At this stage it seems very unlikely that [Mines Rescue] teams will be able to get past this fallen area while working in the irrespirable atmosphere," a statement read.
Previous imaging shows the upper parts of the mine are open and unaffected by fire, and there may be other means of accessing these areas, but Mines Rescues said it was up to the Pike River Coal to present alternation options to allow teams to undertake the recovery.
- Newstalk ZB, Herald online