Chris Rattue writes that the $500 million Rugby World Cup shortfall accurately represents where power and privilege lie in NZ.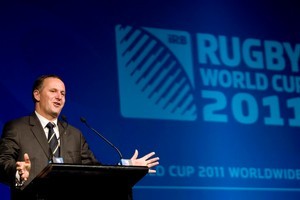 A simple and sincere "thanks" would help.
Because that's what the rugby chiefs owe the rate and taxpayers of New Zealand. Big time.
A New Zealand Herald story estimates that New Zealand will spend $1.2 billion on investments for this year's World Cup, and reap $700m in return.
The validity of these numbers is open to question of course, especially the one involving the returns. There are many ways to evaluate the returns, ways that would produce many different returns. An argument could be mounted that the long-term gains will be higher, or not. An economics professor puts the gain at a paltry $150 million.
One thing is certain - we were sold a pup so massive that it is a dog.
In 2005, when the tournament was awarded to New Zealand, the Treasury estimated that in a "worst-case scenario" $70 million of public money would be needed.
Instead, the public bill - if you regard lotteries money as part of the public purse - will be between $600 million and $900 million. This is a scandalous rort that is being talked down through a retrospective construction of benefits that are not even backed by evidence beyond vague references to national brand building.
Shouldn't someone in the Treasury be sacked? Or maybe the department was misled. Surely a Treasury estimate that was so wrong needs to be analysed through a public inquiry, so we can find out who said what to whom in the name of our money.
It's rugby's sense of entitlement that sticks in the craw, as well as the way it is allowed to run riot over real New Zealand.
The whole country has been forced to bend over backwards, financially. In the process Auckland - under time pressure - threw good money after bad at Eden Park.
Don't you love the precise cost-benefit terminology the rugby acolytes pull out when they need to?
"It's way bigger than anything we've done before," said World Cup Minister Murray McCully, while throwing in jargon like "brand building" and "legacy values".
And actually, 30-odd years ago a National Administration embarked on something way bigger, a project called Think Big, which cost an estimated $7 billion. But that's another story.
RWC chief Martin Snedden points to the intangible benefits (as it was described in reported speech) of having "really extensive worldwide media coverage and television coverage".
He may be right, he may be wrong.
Considering the extraordinary amount of money that we, the citizens, are putting in, Snedden might try harder to make the intangible tangible.
Prime Minister John "Sporty Spice" Key will relish the RWC's photo opportunities, but there is a bigger picture.
Come on troops ... stop pulling our leg. You are a bunch of rugby heads looking after your own tribe.
Those who reap such great rewards tend to represent the same club - white, middle-class, middle-aged males (think Hollywood film makers, inveterate America's Cup yachties and the rugby honchos).
Meanwhile, rugby league - for instance - shuffles along in an outdated stadium in Penrose. There is an army of motor racing fans without the facilities to match their enthusiasm. The youth of today (and the not so youthful) aren't rugby obsessed and many prefer the waves and slopes and flying through the air for their kicks. But they are lucky to get a mound of concrete for their benefit in a local park.
Here's an idea with long-term benefits: Let's use public money to build a "boutique" stadium for league, a sport that has a major following among those who have traditionally been excluded from the exclusive club. It could double as a soccer stadium, catering to another major sport.
After years of having Government institutions and employees - namely schools and teachers - actively working for rugby and against the interests of league, the 13-a-side code deserves a make-up call from the taxpayer.
As a business, rugby is veering towards the gurgler. The national body struggles to make ends meet, some provincial unions are in major strife, and recently reported television figures suggest the fan base is dwindling outside of test matches.
Rugby is banking on the World Cup for a rebirth. In other words, ratepayers and taxpayers are propping up a flailing, perhaps failing, business.
When league struck problems, it faced an investigation before Sparc funding continued with provisos. When rugby struck problems, it was handed a nationwide billion-dollar World Cup investment with no strings attached.
League was portrayed as inept. Rugby is portrayed as a victim of outside (overseas) forces, the same ones that crushed league in this country decades earlier.
Many of us still thrill to rugby's great battles, are in awe of the remarkable players this country produces, and revel in reflecting on its place in our history. I am not a rugby naysayer - the game is still a massive part of my life.
Times are changing, though, drastically.
Rugby remains the national sport, but its exalted place in New Zealand life is no more. The black jersey has an aura, but in the age of professionalism, it is a commodity.
I'm sick of having rugby's myths jammed down my throat and now its hand stuck in my wallet.
This isn't, as the RWC mob likes to claim, a country of four million rugby fans. Like every country, we are a place of diverse interests. There are actually people hellbent on getting out of the country during the tournament.
The money being spent on this World Cup is completely out of whack except that it accurately represents where power and privilege lie. Rugby has pulled a fast one and got away with it, thanks to friends in high places. At least the game should say thanks instead of hurling the dummy pass of intangible benefits at us.
OLD GOLD
How fantastic, to see these names from the past popping up again.
Brad Thorn is still firing on most of his cylinders, hopefully, and Tana Umaga made a Super 15 comeback this year.
Now legendary equestrian Mark Todd wins at Badminton, Highlander Tony Brown helps lower the Crusaders, and Reuben Thorne is back in the injury-hit Crusaders squad.
All can be forgiven and forgotten when the old stagers return.
The classic sporting makeover involved George Foreman, once a fearsome figure in the boxing ring, who was turned into a teddy bear second time around.
Rugby stalwart Thorne never won the sort of accolades from the public that his coaches heaped on him. He wasn't a crowd pleaser.
Some might claim that he was slow enough in his heyday, so he's hardly going to cut the mustard now.
But I can't wait to see him in action for the Crusaders.
As some of us find that the years are advancing incredibly quickly, there is comfort in witnessing unlikely sporting comebacks.
AN ALL BLACK CRISIS
The All Blacks are enduring an injury crisis. If the world's bookmakers are watching carefully, they might be raising the returns for an All Black victory in the World Cup. Graham Henry is unlikely to say much publicly, but he should have real concerns because the casualty ward is unusually full, the omens rather dodgy.
Dan Carter and Richie McCaw are under injury clouds, Piri Weepu is still to return, there is now a major question mark over Tony Woodcock and a smaller one concerning Brad Thorn, Ma'a Nonu has a fractured eye socket, Cory Jane a hamstring injury, Conrad Smith a broken nose, rising lock Sam Whitelock is in long-term rehabilitation and Ali Williams is still on the comeback trail. The latest injuries to Woodcock and Thorn are a real blow. The situation couldn't be much worse.
Added caution in the World Cup year may be a contributing factor to the sidelining of some players, but there are a lot of smaller injury problems as well.