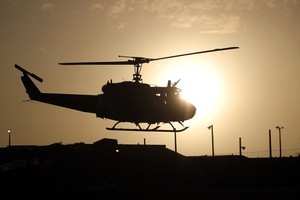 The Prime Minister has been accused of inappropriately "commandeering" the air force to get to photo opportunities and exclusive events.
The Prime Minister's office today confirmed John Key used an Air Force Iroquois to get to an engagement at the ITM V8s in Hamilton and back to Auckland for a formal dinner event.
Labour's Trevor Mallard said he had been told the cost would have been as high as $10,000.
"He could have got up a bit earlier in the morning... or cut short his time there. His photo op only took five or 10 minutes and I think that if he was better organised wouldn't have been as extravagant."
Mr Mallard said there were occasions when it was appropriate to use the air force and cited an example of when former National Prime Minister Jim Bolger needed to get to a nationally important funeral on time.
"I think that sort of thing is OK but using them for routine transport when he's had a year's notice of the timing, it's very extravagant.
"It's just a very bad look."
Green Party co-leader Metiria Turei said she was outraged the air force "ferried" Mr Key to the events.
"The Green Party has no problem with the Prime Minister using the air force in order to help out in emergencies or for important government business," she said.
"We do have a problem with the Prime Minister commandeering the New Zealand Air Force so that he can get snapped at the V8s before heading off for an exclusive knees-up at the Royal Auckland Golf Club.'"
A spokesman for Mr Key said the decision to use the helicopter was made because of concerns about traffic issues at the V8s which may have meant Mr Key would have been late for his next appointment - a black tie dinner at the Royal Auckland Golf Club in Otahuhu where the club was celebrating getting its royal status.
Mr Key's office says it would have been unacceptable for him to be late as the Governor-General was also attending and protocol requires the Prime Minister cannot arrive later than the Queen's representative.
"When we use the Air Force, more often than not it is because that's the best logistical option we have that fits with the timing requirement of the Prime Minister's schedule," a statement sent from the Prime Minister's office to Newstalk ZB read.
Labour's finance spokesman David Cunliffe said Mr Key's actions showed he was out of touch.
"Maybe Mr Key's lavish lifestyle with his $55 million worth of investments tells him that flying around from Auckland to Hamilton and back in a helicopter is just normal business, but to most kiwis in this age of austerity it's outrageous."
Mr Key has been criticised in the past for his use of Air Force helicopters. In 2009 he used two Iroquois to fly from Blenheim to Kaikoura, where he was launching a new Whale Watch boat.
Labour MP Pete Hodgson questioned the Prime Minister in the House in November in 2009 about his use of military aircraft.
Mr Key's response included the use of Air Force planes to visit the Pacific Islands, including Samoa after the tsunami, and an Iroquois flight from Auckland to the Coromandel Peninsula for the opening of the Whangamata Marina.
Labour has also been accused of abusing the use of military aircraft in the past. In 2001 Labour was questioned by Act Leader Rodney Hide about the use of an Air Force Orion to rescue Prime Minister Helen Clark from Melbourne after striking Ansett airline workers blockaded her flight, at a cost of almost $15,000.
- with wire agencies and NZ Herald staff