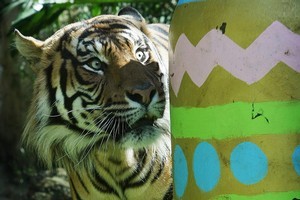 Oz the Sumatran tiger at Auckland Zoo has been given a giant Easter 'egg' to keep him busy.
The zoo wants the egg to raise awareness about the issue of palm oil which is used in chocolate products.
The Sumatran tiger and hundreds of other animal species including the orangutan, the Asian rhino and the Asian elephant are under threat of extinction because rainforests in Southeast Asia are being cleared to make way for palm oil plantations.
Auckland Zoo says it hopes that when people see Oz playing with his colourful toy they will be reminded to choose palm oil-free Easter eggs.
The zoo has a Palm Oil Free Easter Goodie Guide available at its website aucklandzoo.co.nz.
- staff reporter