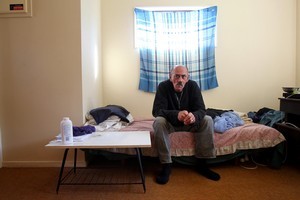 A judge has told the state housing agency it was "not helpful" to evict a vulnerable tenant who had nowhere to go.
Tenancy Tribunal adjudicator Louise Binns told Housing New Zealand she was "disappointed and surprised" after it had failed to find a better solution than making its tenant homeless.
The case has been described as illustrating Housing New Zealand's new direction - a focus on managing houses rather than housing people.
But Minister Phil Heatley has demanded it "get back to core business which is tenancy management".
Housing NZ tenant Thomas Moore, 59, who suffers from bipolar disorder, was moved from his Western Springs flat to a string of pensioner units in Ponsonby while renovations were carried out.
He said he was accused of assaulting a neighbour - which he denied - and was told he was no longer welcome as a tenant.
Housing NZ wrote to Moore on December 22, advising him that he was being evicted and had 90 days to move out.
At the Tenancy Tribunal, Moore said he had nowhere to go and provided evidence from his mental health nurse and psychiatrist which said eviction would make him unwell. One letter stated "secure and stable housing is essential for his continued wellness".
The agency was told by the adjudicator to find a better option for Moore.
Binns said landlords had the right to kick out tenants after 90 days' notice but Housing NZ was set up to provide social housing for the disadvantaged.
"Mr Moore has nowhere to go and if I terminate the tenancy today he will be out on the street and no doubt his health will deteriorate immediately."
It would be "irresponsible" to allow this to happen.
"I am disappointed and surprised that Housing NZ are unwilling to assist Mr Moore."
A Housing NZ spokesman said there was an allegation that Moore had "assaulted his elderly neighbour while drunk", leading to his eviction notice.
Moore replied: "They wanted to wash their hands entirely of me. They don't want me as a tenant - but I'm not a difficult tenant."
Labour housing spokeswoman Moana Mackey said Housing NZ had made it clear that it was acting as a landlord like any other.
"They are evicting people left, right and centre using these 90-day notices. It's really sad to see our state housing provider treating people so badly."