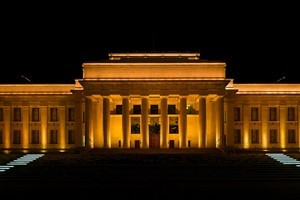 Auckland War Memorial Museum has a new boss, more than a year after controversial director Vanda Vitali resigned.
Roy Clare, chief executive of the Museums, Libraries and Archives Council (MLA) in England, will take over from interim director Sir Don McKinnon.
Canada-born Ms Vitali's three years at the museum were dogged by disputes which saw her at odds with members of World War 2 Bomber Command and the family of Mt Everest conqueror, the late Sir Edmund Hillary.
Sir Ed's children, Peter and Sarah, had threatened legal action against the museum in a bid to regain control of his diaries, writings and family photographs.
A court battle between the two parties was finally averted after the intervention of Prime Minister John Key's office.
In 2008, Ms Vitali upset World War 2 veterans when she overturned an agreement by former director Rodney Wilson to place a Bomber Command memorial in the museum.
The memorial - a 467kg sculpture - was to be placed in a site suggested by Wilson, but the plan was scuttled after fears it would overshadow other displays.
Ms Vitali was blamed for the move and criticised by veterans who suggested the turnaround was disrespectful and the museum was reneging on an agreement.
In November 2008 the museum and veterans finally reached agreement on the unveiling and display of the memorial.
Ms Vitali also oversaw museum restructuring which resulted in 46 jobs being lost.
Mr Clare, too, presided over 30 redundancies at MLA after eight of the organisation's nine regional agencies were wound down in 2008, British publishing industry news magazine the Bookseller reported.
Auckland War Memorial Museum Trust Board chairman Dr William Randall said Mr Clare would bring a wealth of experience to the museum, along with an exceptional leadership style.
Since 2007, Mr Clare has been chief executive of the MLA, which is responsible for the accreditation of museums, the designation of outstanding collections and the administration of schemes to enhance collections.
He was also the director of the National Maritime Museum in Greenwich for seven years.
In a note to Auckland Museum staff, Mr Clare said he looked forward to investing in the people who worked in the museum, ensuring they had the professional capacities to compete across the world.
"Sustainable museums are those that share collections, engage audiences and reach beyond their walls; these are vital ideas in a time when economies across the globe are not yet in full recovery.
"New Zealand has a long, rich history and I see Auckland as a city at the very heart of the nation's global influence and appeal. The Auckland Museum has a fabulous collection and is able to engage people in countless stories of human endeavour, heroism, passion, suffering, success and resilience.
"In tackling these themes I look forward very much to leading and working with a talented team. Together we will build up scholarship, continue to reflect and respond to Maori culture and produce exhibitions and programmes that inform, surprise and entertain."
In June 2007, Mr Clare was made a Commander of the Order of the British Empire for his services to museums.
- NZPA