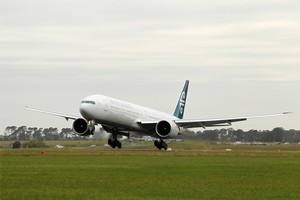 Airline pilots want to see legislation passed to restrict the sale of high-powered lasers which have been causing havoc in aircraft cockpits.
Police were yesterday looking for a person who shone a green laser into the cockpit of a Pacific Blue plane as it was coming in to land at Auckland Airport shortly before midnight on Monday.
Air Line Pilots Association vice-president Glen Kenny said the laser incidents were becoming too common.
"I understand there's been 16 in New Zealand alone this year," he said.
Mr Kenny said part of the problem was with high-strength lasers, or class three lasers, which Alpa wanted controls on.
"There is no restriction on the sale and distribution of commercial-strength lasers in New Zealand. In Australia they treat class three lasers or higher as a potential weapon."
Alpa put forward a proposal along these lines to the Government two or three years ago and though it seemed to be progressing, Alpa felt it should be given a higher priority, he said.
The National Radiation Laboratory, which falls under the Ministry of Health, issued a warning in June last year, saying the public needed to take care with high-powered lasers. Senior adviser Martin Gledhill said there had already been successful police prosecutions where people had carelessly or deliberately aimed lasers at vehicles or aircraft.
Mr Gledhill said the ministry was working with Customs, police, the Civil Aviation Authority and Consumer Affairs to look at what regulatory action was necessary to minimise the risk of harm from powerful lasers. A ministry spokesman yesterday said the issue of further regulations on lasers was still being considered.
Mr Kenny said the lasers could be a serious distraction for a pilot at night and there was no eye equipment that could be used to counter it.
"Nobody has died yet, but there was one incident in the United States involving a helicopter last year where a pilot lost control, and if these sorts of incidents continue it will only be a matter of time before there is a serious accident."
- NZPA