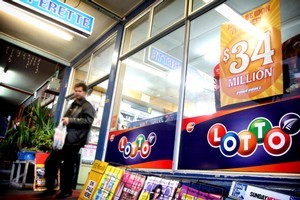 The two winning tickets of a recording breaking $35 million Lotto jackpot were sold in Dannevirke and Hamilton.
The winners would share the $35,224,854 "must be won" Powerball jackpot, plus an additional $111,111 Lotto first division prize each after tonight's draw, NZ Lotteries' chief executive Todd McLeay said.
The tickets were sold at Dannevirke New World in Dannevirke and Take Note Dinsdale in Hamilton.
"Winning a total of $17.7 million is absolutely life-changing for these players."
Ticket holders should contact NZ Lotteries and once verified as winners, staff would advise how the prize could be claimed in privacy and offer "practical advice and emotional support", Mr McLeay said.
The total prize had been increased from $32 million after a record $34 million in ticket sales.
"All of the profits raised from this record draw will go to benefit communities throughout New Zealand, through our annual profit transfer to the Lottery Grants Board."
Seven others won a first division prize of $111,111, with tickets sold in Rotorua, Lower Hutt, Napier, Manukau, Pukekohe, Ohope and North Shore City.
Three winning strike four tickets, with prizes of $127,249 each, were sold in Gisborne, Auckland and Christchurch.
- NZPA