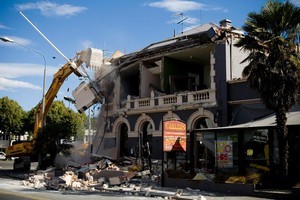 The historic Carlton Hotel in Christchurch is to be pulled down tonight.
The hotel is more than 100 years old.
Publican James Murdoch said the road around the hotel, which is located on the corner of Bealey Avenue, Papanui Road and Carlton Mill Road, has been closed so the demolition can take place.
He said engineers found the hotel was extensively damaged in February's earthquake and are concerned the hotel may fall down in an aftershock.
He said the building's owner hopes to rebuild the Carlton Hotel in the next 12 to 18 months.
- Newstalk ZB