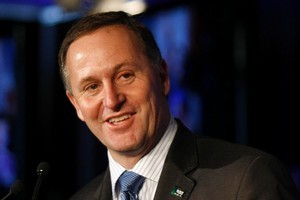 Prime Minister John Key has done an about-face after denying he had a discussion with MediaWorks bosses before the Government decided to give the company a $43.3 million helping hand.
He has now admitted meeting then-MediaWorks boss Brent Impey two months before, when Mr Impey pressed his case for a scheme the Government initially turned down.
The scheme, announced in October 2009, allowed radio companies to spread payments on 20-year broadcasting licences over five years, instead of one lump-sum payment.
On Monday, in answer to written parliamentary questions, Mr Key said he had not had any discussions with MediaWorks, which owns TV3 and a network of radio stations.
But on Wednesday, he issued a correction, saying he "ran into Brent Impey at a social event [in August] where he briefly raised the issue".
Labour MP Trevor Mallard, who lodged the questions, said the meeting must have made an impact because the Government ended up approving a scheme it had earlier rejected, even though the essential elements remained the same.
"I can't work out whether Mr Key is accidentally slipping and genuinely forgot he had the meeting, or whether he is being deliberately misleading," Mr Mallard said.
Mr Key said the Government had been considering the proposal long before Mr Impey's lobbying.
"He just raised it as an issue, but we had been looking at that for some time."
Documents released to One News under the Official Information Act show that the Government declined a request for help in May 2009.
Communications and Information Technology Minister Steven Joyce, who once owned RadioWorks but sold it in 2001, wrote to the Radio Broadcasters' Association rejecting a deferred-payment plan on advice from the Ministry of Economic Development. The ministry said it would place the Government in a credit financing role, which the market already provided, and noted that radio networks had known about the payment for some years.
MediaWorks continued to lobby ministers and told the Government it needed an answer by the end of October, when it had to make long-term financial restructuring decisions.
Mr Joyce presented a paper to the Cabinet on October 12 which included Treasury advice opposing the scheme, partly because other licence users, such as TV companies, might ask for the same treatment.
TIMELINE
March 2009: Rhema Broadcasting Group writes to Steven Joyce about the high cost of renewing its radio spectrum licence.

April 2009: Radio Broadcasters' Association writes to Joyce, asking for the payments to be annual over 20 years, rather than
one lump sum.
May 2009: Ministry of Economic Development says there is no strong case, as it would place "the Government in a credit financing role".
May 2009: Joyce declines RBA, citing MED advice as reasons.
July 2009: Briefing to Joyce says that MediaWorks boss Brent Impey was working on a different proposal and was lobbying "higher levels" in Government.
August 8/9 2009: Impey lobbies Prime Minister John Key during a
telethon.
September 2009: MED rejects new deferred payment proposal -
spread over six years - on the same grounds as before.
October 2009: Draft Cabinet paper notes Treasury opposes the
scheme as it overturns long-standing policy and may see others, such as
TV companies, ask for similar treatment. Also notes a lump sum
payment would not threaten the long term viability of MediaWorks
or The Radio Network, but it would impact profitability.
October 2: Joyce writes to Key seeking to present a paper to Cabinet on Oct 12, proposing deferred payments scheme.

October 22: Joyce announces deferred payment deal, where
payments will be made in five annual lots at an interest rate of 9.5 per cent plus inflation.
additional reporting: Jarrod Booker