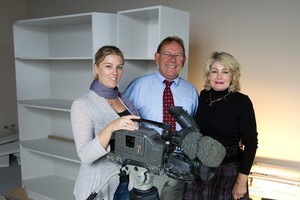 When Canterbury Television returns to the air this month, 16 familiar faces will be missing.
But surviving staff member Sacha Stevens has no doubts those who died when the CTV building collapsed in February's earthquake would have wanted the channel to live on.
"To work in regional television you have to have a real dedication and a passion for it, because it's not always easy. And for all of those who have gone, they loved it," she said.
"They put their hearts into it. So it's nice to be able to bring it back and remember everything they did for the channel."
Presenter Rob Cope-Williams said: "They would have done it for us."
CTV, off air since February 22 quake , will return with some programming on the Maori Television channel from April 18, and with full 24-hour programming from May 2.
After so much loss of life and equipment, the return was far from certain.
"It would have been very easy for the owners to say it's all too hard," Cope-Williams said.
"But they moved heaven and earth to make it happen. It was all a hope we would be able to do it for the 16, but also for the whole of Canterbury because we have a huge following.
"We turn 20 as a station this year. Against all odds ... it has carried on."
The CTV operation has shifted into new premises, but replacement equipment due to be shipped from Japan "is now in the water ... because the tsunami took the factories out".
"You wouldn't believe it, would you?" Cope-Williams said.
Among the nucleus of 11 staff remaining with CTV are those alive only through luck or desperation.
Receptionist Mary-Anne Jackson scrambled out of the building seconds before it collapsed. She is proud to see those left in the CTV "family" carrying on.
The 16 who died were dearly missed, she said.
"But in their honour and memory, we will get up and going ... onwards and upwards."
Cope-Williams was always out on Tuesdays - the day of the quake - filming for his farming programme. At home that night, after he found out what had happened, "I drank a huge amount of whisky ... I still choke up when I talk about it."
Sacha Stevens, a behind-the-scenes staff member, was in a gymnasium next door to CTV during her lunch break when the earthquake struck.
In the mayhem that followed, she learned that her partner, Ross, had been helping police dig in the rubble for an hour and a half before he got a call to tell him she was okay.
"I think we are all aware that the people aren't here to do the jobs with us that we had done together before. And that's hard," she said.
"But [restarting the channel] definitely feels like the right thing to do."