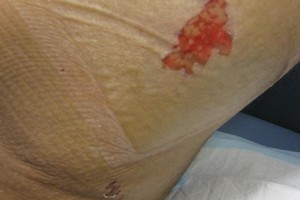 A woman suffered first-degree burns to her legs during a hot-wax treatment at a leading Auckland beauty spa.
The woman, who wants to be known by only her first name, Natalie, is upset staff did not react adequately to help her after the accident at East Day Spa on Federal St.
The spa has apologised for the accident and for the fact staff "panicked", preventing fast treatment of the burn.
But Natalie wants other women to be aware of the possible dangers of visiting a spa and is urging them to ensure staff are trained in first aid so they can cope in an emergency.
"I was lying down," she said, recalling the March 2 incident.
"I immediately sat up. I was trying to hold myself off the bed and I just started screaming, 'Get it off me.'
"I was just in excruciating pain and I was starting to panic because the wax was starting to burn.
"I looked at the operator for help and the poor thing looked at me completely terrified and she just kept on saying, 'I didn't mean to do that, I didn't mean to do that.'
"I remember looking at her and saying, 'You need to help me. Please calm down. I really need your help right now.'
"I was in a lot of pain at this point but I felt that I had to calm her down, but I was the one who was just burning up literally every second."
Natalie said the woman put cool cloths on the wax, then tried to put on an ointment, which seemed to lift the head off the blister, before she was sent to Auckland City Hospital in a taxi.
The taxi driver helped her into the hospital and refused payment from her because she was so worried.
East Day Spa director Suyin Ginn said she believed the single-use wax dispenser had broken, causing wax to pour on to Natalie's leg.
The salon had contacted the manufacturer, withdrawn stocks with the same serial number and changed its processes to prevent similar incidents.
She said the salon's basic first aid kit was being upgraded and staff had been briefed on what to do if someone was burned. They had also changed the wax application technique.
Ms Ginn said the therapist involved was not trained in first aid, but another staff member on site was. There are no regulations to ensure beauty therapists are trained in first aid.
"We're taking it very seriously ... It is a major concern for everyone at the spa," Ms Ginn said
She was apologetic about the incident and the way it had been handled. "We're really sorry that it's happened and for the injuries that she's had."
She said staff panicked and "probably didn't react as fast or as quickly as they should have".
The salon has refunded the $120 Natalie paid for the two treatments and the cost of her mother's flights from Wellington to take care of her, and is going to cover her medical costs.
The Department of Labour's northern regional manager, Claire Morris, said an investigation was under way.
"All employers have a duty to make sure that no action of an employee harms another person.
"The department can provide information and advice to improve health and safety practices or it can take enforcement action. It is too early in the investigation to speculate on what the outcome will be."