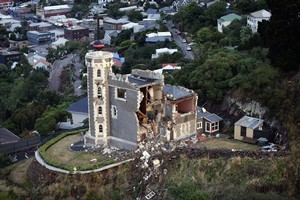 Specialists have digitally mapped Lyttelton's quake-damaged Timeball Station before the historic building is dismantled.

Earlier this month, the Historic Places Trust said the station would be dismantled due to extensive damage from the February 22 quake.
The station had already been damaged in the September 4 earthquake.
Specialists took digital photos and used a laser scanner to take millions of reference points of the station.
"The information will give a variety of ways to reconstruct a digital model of Timeball to the millimetre," Hans-Dieter Bader, from Archaeology Solutions, said.
Digital mapping meant it was also possible Timeball Station could be rebuilt one day, Dr Bader said.
The trust said the data would help the organisation make a final decision about the building's future.
The Timeball Station is classified as a Category I historic place of international significance with the trust, because of its special maritime history.
From 1876 to 1934 a ball dropped from Timeball Station's mast on its stone tower, signalling the time to ships in Lyttelton Harbour.
In 1934, the timeball was replaced by radio signals, though flag signals continued until 1941.
- NZPA