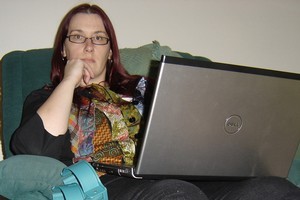 Amanda Fitzwater was working at her company's Fitzgerald Avenue office in the Christchurch CBD when the magnitude 6.3 earthquake struck the city at 12.51pm on February 22. Her foot was broken when the force of the quake threw her to the floor. What followed was a dash to the roadside where Amanda's husband, Calum, quickly collected her and drove her away from the crumbling city centre.
Today, three weeks after the earthquake, thousands will gather in Christchurch for the national memorial service - our nation's opportunity to reflect on the disaster, and to remember those lost. Many thousands more will follow the proceedings via the web, television and radio.
Here, Amanda shares her own memories gathered in the time since the quake, and her feelings throughout the memorial service as New Zealand and the international community pay their respects.
3pm: I'm feeling pretty wrung out now. It's a beautiful day in the city, and if you looked at it just right you could almost forget what's just over in the next street from Hagley Park.
The sort of day for a glass of wine in Lichfield Lane, or dinner at Pedros.
But both of those landmarks are gone. I'm so sorry for you darling Pedro. There are so many places I'm going to miss terribly, so many places of great memories. So many places gone I'm going to have to stop and think very carefully about whether it's worth staying. And when I do stop, I remember how much I loved this city, flat and green, and I hope I have the energy to see it through its rebirth.
Christchurch is a city of broken brick and glass. A city of road signs, official and hand painted. It's a city of dust, sewerage, and water running out in all the wrong places. It's a city where the buildings, parks, theatres, the bars and the restaurants, our life spirit, hospitality and culture, are shattered. It's going to be very difficult to find happiness here for a long, long time because so much that is great has been lost.
How do we make ourselves happy here if we don't have the means to do it? Life is not just about waiting for things to be fixed, working, eating, sleeping. Look to each other, celebrate the small triumphs. A happy population is a productive population. Don't forget the disenfranchised, those unseen. Keep looking to the east.
Give us time. Give us our grief. All of us, in whatever form it takes.
2.58pm: TV3 is playing May It Be from Lord of the Rings. Reaching for the tissues again as I try to type.
I watched LOTR as a distraction in the week after, but I found it a little weird - the destruction of Minas Tirath came a little too close to home.
2.50pm: A tree of remembrance. Nice. I was thinking about all those trees that had to be felled in the park and elsewhere. Glad that planting has started already.
2.29pm: Switch over to TV3. John Campbell and Mike McRoberts are having a yarn. Major difference from TV1 where there's been no commentary.
John talks about Christchurch being strong. I think about all the people who expressed amazement that I worked through, but I don't think of that as being "strong". If I wanted this city to survive economically, I had to do only what I could do. I wasn't saving the world - there were much stronger people than me. I wish I could have got more involved physically.
2.22pm: Video of hope is quite inspiring, and shows a lot of things that I've missed, having been hunkered down in this brain bunker of mine. Nice to have some levity after such a serious service.
2.17pm: I'm watching the TV1 coverage, but friend informs me via Twitter that TV3 is calling Julia Gillard's partner her "husband". Sigh, get it right please.
2.07pm: The Anglican Bishop, the Right Reverend Victoria Matthews, says something about the sirens, and suddenly I'm thinking about all the times I've jumped, I've looked out the window, I've held my breath in the last three weeks when an emergency vehicle passes. My work building sitting at the head of Lichfield Street has always been a place police cars and fire trucks passed to get to the East and South of the city, but now it seems every siren wail is a reminder I don't need. Will there ever be a time now that I won't hear a siren wail and have a flashback?
1.47pm: I stop to listen to the prayers of many faiths. Christchurch has many voices. I would have liked to see more of this, more than just a nod to our huge, diverse communities, and more words from those of a more secular nature too.
1.44pm: You are wonderful Hayley, but I'm sorry. I just can't handle this song. Far far too loaded.
I have to go back outside to try to soak up more sunshine. My heart is beating too hard and I'm feeling more than a little rough around the edges. This was not a place I wanted to be today.
I discover that my poor little veggie garden has wonderfully sprouted a last gasp effort at some cherry tomatoes and capsicums, despite surviving on rain only.
1.34pm: Beautiful singing, but so many loaded songs. How Great Thou Art, another one too difficult for me to listen to. I know services are meant to bring peace to many people, but when I hear songs from other difficult or traumatic moments in my life, they don't make me feel any better, and some of those difficult moments have been troubles I have had with the church.
It's getting a bit too much. I limp outside to cuddle the cat and say hi to the kids on the trampoline over the back fence.
1.29pm: I'm heartened to have some writing structure today. Usually I write one day a week and the rest is writing copy at work.
I've heard the term "quake brain" a lot lately. It's so true. I've found that writing has been a physically difficult task. I repeatedly type words incorrectly, even after going back to correct them. My mind goes blank on basic words. I'm repeating myself constantly, forgetting what I've said, and then not saying something I thought I've said.
1.17pm: Dave Dobbyn is now singing the very safe song Loyal. Someone as a joke last night suggested Chumbawumba's Tub Thumping (ouch). A song that has had much meaning to me the last few weeks has been Shapeshifter's Twin Galaxies:
"I remember the day, I still remember the time, I remember the place and the weather, when I heard the news about you...things just ain't been the same, since that day you went away..."
It's such a wonderful video. I wonder if Shapeshifter could remake it for Christchurch?
1.09pm: Now there's the difference between Bob Parker and John Key. Bob speaks to and for Christchurch. Key seems to be only speaking to the rest of the country in an indirect fashion. Have heard criticism that this service seemed to be more for the rest of the country. I agree in part. We appreciate all that has been given, the love and the thoughts, but we're going to need it for a long time to come. Do not think that this service is a chance to set and forget.
1.06pm: Friends are saying on Twitter what a good king William will be. Nice, succinct, brief speech. I know I criticised the privilege of his being able to get the royal treatment (oh goodness, did I just write that?), but I have to agree. What a gentleman.
1.03pm: My friends are giving me lots of love today on Facebook and Twitter. There's that wonderful social media bringing communities together. I can't count the number of drinks, dinners, spare beds, and hugs I have awaiting me all over the country.
12.54pm: Mayor Bob Parker is now speaking. The man has been an absolute rock. I hope he has people taking care of him.
I'm glad Jeremy the Sign Guy is there, and there is an area for wheelchairs. I was worried about those with mobility issues negotiating turf disturbed by liquefaction.
12.51pm: Two minutes' silence. Okay, paying attention now. "Let us be still..."
Dang, I need a tissue. I tried to think of those seconds, but I still don't remember. The harder I try to remember, the more it slips away.
12.46pm: Finding it a bit difficult to concentrate on the service. Aside from my concentration being absolutely gone lately, I was never really happy with the idea of the service. My original plan for the day had been either to go visit family, or bury myself in a mini stay-cation - sleep, read, play computer games as a distraction. I'm working on half an ear.
"Whatever your faith may be..." says the Dean of Christchurch. What about those of a more secular notion?
12.28pm: Crowd looks bigger than any you'd see at Christmas in the Park or Classical Sparks. Makes me think of all the wonderful events I've been to in Hagley Park. I used to love biking through there. Some may call a park and its greenery the lungs of a city, I call it the heart.

"Life is slowly returning to normal". What is normal? Right now, that's ripped open roads, thousands of homeless, a landscape irrevocably changed. Life will not be normal for a very long time.
Showing the USAR teams walking in. Legends, every single one.
Crowd very subdued as Prince William walks on stage. Solemn opening. Getting goosebumps.

12.25pm: Solar Powered Kitteh goes from snoring to 50 as ham sandwiches are made.
12.20pm: I had a fascinating discussion the other day with a friend about the impact social media has had in regards to the Earthquake. Personally I was so pleased that the cell networks held up better this time than in February, though messages were slow to get through in the first hours. When I finally got out of the city and to a place with power and internet, I was immediately able to get onto Facebook, Twitter and my blog to let everyone in my internet communities know I was okay. I blush to think of the messages that were waiting for me - everyone was so frantic. Somehow word had got out that I'd been hurt. It made me feel very loved. I guess it goes to show the extent of the shock I was in that it wasn't until days later I grasped the danger I truly had been in from all these messages.
Twitter, websites, Facebook: the power of knowledge has been invaluable, and the city council has done a cracker job of media releases. Screeds of information is available on line. People can connect and comfort each other through the #eqnz hash tag on Twitter. I've made more friends in the last three weeks through the that, than in all the time I've been on Twitter. Big city, small world.
12.17pm: The Solar Powered Kitteh is snoring.
12.14pm: Who is live streaming the service? I check the Herald's link, TV1, TV3, National Radio.
Ahh, good old National Radio. If she was around, my nanna would laugh to hear me say that now. But honestly, in the days after the quake their voices were so soothing and calm. When I couldn't take the images any longer, I could manage hours of info from National Radio delivered in a calm, controlled voice.
12.12pm: Sue tweets that the crowd is huge, it's hot (got sunscreen?), and cell coverage is "dodgy". I'll be playing "Where's Sue?" - wonder if her sexy pink high-vis vest clashes with red and black?
12:03pm: Turn on the telly again. Time to start watching. Catch Mayor Bob (and his stylee orange parka) talking about anger being an ok emotion. Here here. The emotions are pretty rough and roller coaster, and really not pretty. $32 Million raised by Red Cross? Nice. That crowd at Hagley is looking large too. Glad people have found their way there, hope negotiating the traffic is ok.
12pm: The kids over the back fence are shrieking with laughter. Haven't heard them in days.
11.51am: Someone asks me how I broke my foot. It's a (polite, safe) question I've been getting a lot the last three weeks. Honestly, I can't remember. I've blanked out ten minutes. I think I got thrown down by the shaking. Funny and weird all at the same time.
I watched video on the "Voices of Christchurch" video blog here on the Herald where a gent was talking about why he left it two days to have his burn injury seen too, and I was nodding along. Same story with me - there were more important people to be seen to, more important injuries than my silly old foot. I waited until Thursday to go to the Bealey 24 Hour Clinic - massive props to the timely and wonderful service I got there. All free too. Dang that socialised death panel health care in a time of crisis.
This is my first ever broken bone in my life. At any other time, it may be a novelty, a major inconvenience. Now it's just part of the deal. I'm pretty circumspect about it. It didn't hurt much, though it's beautiful bruising. I didn't feel it until an hour afterwards - all that shock and adrenaline. Once I took my shoe off it blew up like a beautiful balloon.
11.33am: I'm annoyed that though this is my city, celebrities, politicians and royals have got the red carpet treatment for a "first hand" look. I haven't seen the inner city yet or other badly affected eastern areas, because I'm super conscious of not clogging up the roads, rubber necking, and safety concerns. My partner can't get to his work building because it's still in an Orange Zone. Yet others get to dash-in-dash-out, cluck their tongues, walk away, and talk about what a terrible tragedy it is. I appreciate the attention they may bring, and yes it is a tragedy, but we get to keep living that tragedy every day.
The memorial service programme says there will be videos of the destruction. I know there are many videos and photos online. But there is a difference in seeing it with my own eyes. Only that way can I start to grieve and move on. I can't, stuck out here - I feel like it's a tale of another city.

11.30am: I forget what it mean to people when I say I work on Fitzgerald Avenue. The astonishment throws me off until I remember that it was the edge of the cordon for quite some time. Even now, the new cordon edge is only a block away on Barbadoes Street. I only worked two physical days at the office because of access problems while the cordon was that close, one of them famously with a tank parked at the Lichfield Street intersection, it's barrel aimed into our carpark.
I think of others I know who were closer in and how it's changed their lives: two work mates with flats within the cordon, one who left Christchurch with nothing but the clothes on his back and his wallet; a friend who was working near the Bridge of Remembrance, and had to run through Cashel Street to get out; at least three friends with kids at school in the Bus Exchange building; a friend who was working in the old train station building on Moorhouse Avenue.
11.13am: "Memorial service: 'A chance to move on' is just abt the silliest phrase I've heard all week. Many people in Chch are still cleaning up," Tweets a friend. Don't forget us media cycle, international friends, even people in other parts of New Zealand. This is a long, slow, grinding change that will take a decade or more. We will not be okay for years to come.
If you're finding it "hard to imagine" or wondering why we won't "just get over it", I have three words: Come Live Here. Do not dismiss our feelings, our need to grieve, or try to make our problems analogous to something worse elsewhere - it's all relative. These are our lives, our homes, our roads, our lack of water, power, infrastructure, sleep, security and happiness. We will overcome, eventually, but telling someone to "smile" in the face of adversity when they don't feel like smiling is editing their response to how you want them to feel.
11.19am: The first aftershock I've felt in days. Relieved and jumpy at the same time. I haven't been feeling anything under a 4 for over a week now. My partner had to peel me off the ceiling at least once a day in the first two weeks.
11am: What it means to have a day off today: There has been much discussion that an interruption in service for business struggling to restart could cause economic consequences. I completely understand that, but I'm looking at it from the workers' point of view. I pretty much worked right through the "shock and awe" of the first ten days, limited though my abilities were. I had team members escape the city for their own mental well being. Since I wasn't physically going anywhere on my foot, tag, I was it. Plus, I was actually supposed to be on holiday during that time. I am exhausted. A day off is a chance to rest. Though today I didn't get a sleep in, I'm not sleeping all that well. Sometimes I'm so bone weary I sleep twelve hours and wake up still exhausted. Some nights I don't sleep at all, and the next day I'm a zombie. But the pony express has got to get through.
10.41am: My friend Christchurch City Councillor Sue Wells is walking to the service from St Martins, and tweeting her progress. Looking forward to updates from her in the crowd. She's been a powerhouse the last two weeks, Super CouncilWoman. Been sharing lots of photos from around the city.
10.39am: The sun comes through as the morning fog burns off. Open the ranch slider, let the sunshine in. Furry beast assumes the "Solar Powered Kitteh Recharging, Please Stand By" position.
10.19am: Workmate texts with a work problem. Life is still going on outside Christchurch, as it did even in the minutes, hours and days after the earthquake. That time is becoming a bit blurred. Can't contemplate going in to the office if the traffic is as bad as to be expected.
10.09am: Get the message that we're live. Rather nervous. Make a note to self to write something about the impact of social media later on. Suddenly feeling a bit secluded from it all in my quiet house in the northwest. That odd "cut off from the city" feeling settles in again - spent the first five days post-quake mostly hunkered down at home because we couldn't go anywhere or do anything. If I close my eyes, the brokenness is not Right There...
10am: Turn on the telly. Doesn't look like any lead up to the service. Turn it off again. Can't stand smiley happy talking heads, not today.
9am: Friends I was going to watch the televised service with message me to say they're not coming, they can't face the battle with the traffic. I completely understand - it took them one hour to do a usually 20 minute drive just last night, and my getting to and from work the last two weeks has been nightmarish.
8am: I have a Splash n Dash shower, still very conscious of water conservation. Yeah, I live in Shower City. My poor vege garden has suffered - lost the last of my summer veggies because we couldn't water. Which makes me start thinking about all the other gardens lost in the city to destruction, liquefaction and water conservation. In a tough time, vegetables and fruit that could have supplemented grocery budgets has been lost.
7:42am: Up with the sound of the recycling truck. The sounds of routine are music to my ears. I cheered when I heard my first bus on the street the week after the earthquake. It seems to be the only sound. No birds, barely a whisper of traffic, one siren.
Turn on the computer. Google has a black and red candle on its front page with the words "Remember Christchurch". Nice. Twitter chat is full of is it/isn't it appropriate discussion. Have a yarn to tweeps about the divide of opinion in the city - "I respect the divide," I say. "But it's not the sort of bickering we need right now." I'm in the "It's Too Soon" camp - there's so much to be done in this city before we can close any sort of chapter. We still haven't got a definitive death toll.
I completely respect the emotional needs of those going to or in need of the service. "To each his own. If it's too soon, don't come. Commemorate in your own way," says someone on Twitter. I chose not to go for four reasons: I can't walk far on my broken foot, the traffic, I'm very wary of large crowds at the moment (going to the supermarket even is rough), and I was wary of the religious content of the service.
There is a certain comfort for some to be derived from a religious service, but it is possible to be spiritual without ignoring the needs of other faiths or the non-religious. Looking at the service program last night I note there is some time for prayers of other faiths, but it is overwhelmingly Christian. Take what comfort you need from it, but I will have to walk (hobble) away from the TV when Amazing Grace is sung - it's a song far too loaded for me.
------------------------------------------------------------------------
Lucky: that I received only a broken foot in the February 22 earthquake; that my partner and I were reunited in minutes; that we still have our jobs; that our friends and family are safe and well; that our house in the northwest still stands.
Lucky: said in that relieved tone by a non ChurChurian who hears, "I'm okay", but doesn't quite get that you're really not. Lucky: said by the vicious kiss-and-dismiss media cycle. Lucky: from the tired and envious local person worse off, trying to be polite. Lucky: said by a complete stranger with a sad, knowing smile who knows the pain underneath the veneer.
Strange, but I don't feel lucky when I look at this shattered city and people. For a brief moment in time 350,000 people were united in one massive upheaval, and from there our stories fracture depending on luck. We are the walking wounded, we have blank faces, we cry a lot, we try to get on, but we all have something in common that no-one outside our borders can truly understand. And it hurts like hell.
I don't remember the shaking, or how I hurt myself. It's "lucky" that my brain has blanked it out - "nothing but unicorns and muffins for you for 10 minutes," it said. I have flashes of me screaming, shaking and crying, huddled beneath my desk. I am conscious of people laughing, dealing with the stress in their own way. And then seven hours of waiting, to hear from people, to get out of the CBD.
What really is lucky about Christchurch is the people and the technology that has kept us together. Technology and social media has allowed me to continue my job and stay in touch with what's happening on the streets of my city when I can't get out to see it.
For those who didn't, or still don't, have power for internet or to charge their phones, it's a different story, and that makes old community sensibilities even more valuable - neighbours, leaflet drops, community groups, meetings, and radio still are invaluable. Knowledge is power.
Today is a memorial day in Christchurch, and while I believe it is way too soon to put paid to our grief - grief that is not pretty, romantic, run by any rules, or to be commodified - I understand that we are 350,000 people grieving in our own way, each with our individual stories that need to be told. Rebuilding faith and the hearts in this city is going to be a long, hard dirty slog, in tandem with the rebuilding of infrastructure, buildings, culture and lifestyle.
I am wounded and doubting my belief and place in this city. So these are my thoughts on a day where we all grieve - or don't - and begin that long, terrible journey towards a new life here.