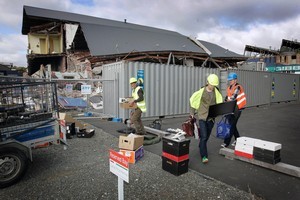 Christchurch business owners are angry at slow information from authorities about their damaged buildings and that buildings that don't pose any threat to public safety continue to be demolished.
Some business owners were allowed back into part of the downtown area yesterday for three hours to salvage what they could.
It was the first time many of them had been allowed back since they fled after February 22's 6.3 earthquake.
One business-owner spoken to by the Herald was angry a building he owned had been demolished without him being informed. Guy Griffith-Jones was forced to move his cafe in Lichfield St after the September 4 earthquake into temporary location on Tuam St, which was badly damaged by the latest earthquake.
It was while he was trying to get there that he discovered the Lichfield St building had been ripped down.
"They pulled it down on Friday ... We own that building but they never actually told us they were pulling it down until we drove past and saw," he said.
Mr Griffith-Jones, 36, said he would have demolished it anyway, "but it would be nice to have been told, to have a courtesy call from someone to say 'we're doing this'."
He didn't believe there were too many buildings being demolished for "one phone call" to be made.
A friend of his, who runs a cafe in Hereford St, was in a similar position. "They pulled that down in the weekend - they didn't tell him.
"There was still money in the till. Everyone just ran out and left it - they weren't allowed back in," he said.
Roland Logan said he believed the authorities were making life even more difficult post-earthquake for building owners like himself who were on the edge of the Red Zone.
He said he was only allowed back because he had an engineer's report from work that was being carried out when the earthquake struck. "To be able to get anything done is so difficult ... I just think there needs to be a better approach from Civil Defence for this whole thing."
He said insurance companies had "dragged the chain" since the September earthquake that meant many building owners weren't able to proceed quickly with repairs.
Civil defence controller John Hamilton yesterday rejected suggestions that a large number of buildings had been demolished without the owners' consent, but conceded a "small number" had, although he couldn't be specific. Possible reasons included the owner being not contactable or overseas.
He said he was aware there were problems with buildings in Hereford St and High St and promised to investigate who signed those orders off.
Mr Hamilton said the decision to demolish was made by the Usar controller at the scene - not the contractor - and was then signed off by him. "Every possible effort" was made to contact a building owner before demolition occurred.
He added it was the building owner's responsibility to inform the leaseholder or tenants a building was to be demolished.
Another building owner, James Ayers, said a single storey tin shed on High St was demolished without him being informed or consulted.
"This is happening all over the CBD as we speak in the name of 'recovery'. If this continues there will be no recovery as the small to medium sized businesses that make up the CBD will have had their plant/stock/records completely destroyed by the actions of out-of-control demolition contractors," he said.