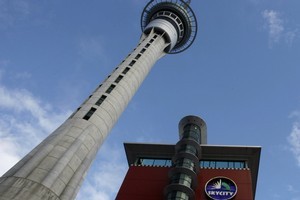 SkyCity's plan to take a slab of airspace over Federal St to expand its convention centre is still on the table after a rocky political ride last week.
After the proposal was knocked back by the Waitemata Local Board on Tuesday, a committee of the Auckland Council voted on Thursday for officers to continue working with the casino operator on design elements of the airspace proposal.
Senior planning officers were also in the gun for making a "sales pitch" in favour of the proposal and writing a report to politicians leaving out critical comments by the urban design panel and advisory panel for public art when it was outlined last year.
One politician said this was a well-worn tactic of the former Auckland City Council.
The three planning officers responsible for the report - Ludo-Campbell Reid, Penny Pirrit and Simon Lough - are former Auckland City staff.
In a rare public ticking-off of a council officer, councillor Mike Lee called Mr Campbell-Reid's presentation to the planning and urban design forum a "sales pitch".
He said councillors should have been provided with the objective and balanced information they needed to make the right decision and explain to the public.
After Tuesday's knock-back by the local board, the forum rejected the officers' recommendation to support the project in principle in favour of sending officers away to do more work with SkyCity on the project.
Forum chairman Cameron Brewer said he was keen to find some middle ground and not push the project off the table.
SkyCity wants to build over 48m of Federal St - a quarter of the block between Wellesley and Victoria Sts - to expand its conference facilities from 1500 to 2000 guests.
In return, the company has offered to wrap the airbridge in an artwork and pay $10 million to upgrade the tatty block at street level - where the company is already making improvements with plans for three new restaurants.
Councillors are divided on the trade-off of SkyCity paying to upgrade the street in exchange for the biggest airspace licence in central Auckland.
Councillor Michael Goudie said he did not believe there was anything controversial about the project.
"The development of the airbridge will be a feature in itself," he said.
Said councillor Sandra Coney: "I don't think we should fool ourselves this is urban revitalisation.
"It's an expansion of the casino and about bringing more people into the casino."