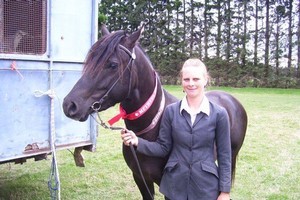 The mother of a hit and run victim is "disgusted" the teenage drink driver who killed her daughter will not go to prison.
Mandy Ward was thrown 32m when she was struck by a vehicle driven by Ryan Inch in Methven, Canterbury, late last September 24.
The 27-year-old died hours later in Christchurch Hospital.
Inch was this week sentenced to 12 months' home detention after earlier pleading guilty to drink driving causing death and failing to stop at the scene of an accident.
He had an excess breath alcohol level of 589mcg per litre, almost four times the legal limit for a person aged under 20.
Mandy's mother Kathleen Ward said she was "disgusted" by the sentence.
"That's like saying you can go out, drink and drive and get away with killing someone," she said.
"I believe he should be put away for a year at least as a proper punishment.
My sentence is for life."
Kathleen said Mandy had started saving for a house and was talking about returning to Auckland to be nearer family.
"That won't happen now. I was looking forward to cuddling and spoiling her children," she said.
She and Mandy used to talk for about two hours every fortnight. Mandy's brothers Troy, 22, and Cameron, 15, were still struggling with her death and felt very angry with Inch.
"We were good friends and I miss that mother-daughter connection. She was quiet and shy and my little angel."
Inch was also sentenced to 350 hours' community work, disqualified from driving for two years and ordered to make two emotional harm payments - $1500 to Kathleen, and $800 to Mandy's friend Rebecca Whistler.
He was also ordered to have any recommended alcohol and drug counselling or treatment, abstain from alcohol, and keep out of licensed premises.
Mandy's grandfather Jack Hannam said the sentence was "far too light". "What's home detention? You can't go out at night and that's about it.
"That's not going to hurt him for 12 months.
"That's not going to teach him a lesson for killing someone," he said.
Inch's father Kelvin Inch said the family would not comment.
His lawyer, David Ruth, said the sentence was "entirely appropriate" for Inch who was a first offender.
"It was in line with other sentences for similar matters in similar circumstances," he said.
"The judge ... considered home detention met the needs of this case and the maximum home detention is 12 months. He is bound to home 24/7."
At the time of the incident, Methven residents said Inch was well known for "lapping" - driving up and down the main streets of the town - in his 4WD but was no boy racer.
He apologised in court and cried through much of the sentencing, the Ashburton Guardian reported.
Judge Walsh said his demeanour in court showed he was sincere and prison would have sent him further into a downward spiral.