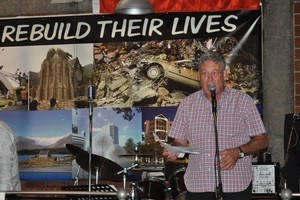 The superyacht community rallied in Auckland last Thursday to raise money for those affected by the Christchurch earthquake.
Superyacht owners, skippers, sailors and suppliers gathered at Headquarters Restaurant and Bar in Westhaven's Beaumont St in an almost impromptu event, organised at short notice by YachtAid Global and Superyacht Support.
The evening, which included both a live and a silent auction, raised $55,000 for the cause.
Before the auctions got under way, guests heard from Hamish Watson, the chef on superyacht MY Galaxy, who was in Christchurch during the earthquake. Watson stayed on in the devastated city after the quake, working with the Red Cross to help feed those badly affected.
"It was shocking seeing streets I had driven down the day before just destroyed," he said.
Watson's first-hand experience spurred on master of ceremonies and "super auctioneer", Peter Montgomery, and those assembled then dug deep into their wallets.
Among the items up for auction, all of which had been donated for the appeal, were $1000 worth of European bed linen, from Gilly Baillie of White Linen; four nights at the Eden Roc villas in Koh Sumai, Thailand, thanks to Charlie Dwyer of Asia Pacific Superyachts; a full-page advert in The Crew Report; holidays in Fiji and Canada, courtesy of Travel Designers in Parnell, and a weekend at a Kiwi bach, thanks to Craig Roe from Reid Yacht Services.
There were also a number of "high-end lots" donated by members of the New Zealand marine industry.
The evening included many acts of outstanding generosity, including by the team at Asia Pacific Superyachts. They bid on an item, won the auction, paid the money and then donated the item back to be re-auctioned, thereby raising almost $10,000.
Local businesses, such as spar-makers Southern Spars, also made substantial donations as did a number of superyacht crews who banded together to pool their resources.
Anyone who still wants to make a donation can do so by visiting the YachtAid website.