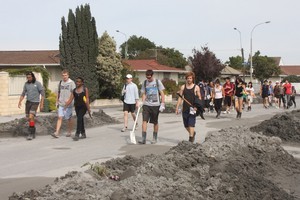 The University of Canterbury will resort to teaching students from an interim tented campus after February's magnitude 6.3 earthquake.
Though the campus was not badly damaged in the quake, extensive building checks are being undertaken. The university has been closed for the past two weeks and is expected to begin a progressive re-start of classes on Monday.
Four large marquees will be set up on campus to be used as teaching and working spaces for staff and students. Marquees will be set up on the School of Law car park and the Arts car park.
Any buildings that have not been through the five-step building assessment process will be cordoned off to avoid any avoidable health and safety risks.
Some classes will start next week while the bulk of courses and programmes will be starting on March 21 and March 28. The April break, normally three weeks long, will be reduced to one week to make up for time lost.
Students and staff are advised to bring drinking water and hand sanitiser with them when classes begin and to be careful about personal hygiene.
A full day of teaching will be offered on Saturday March 19 to make up for the provincial memorial day announced for March 18 to remember those who lost their lives in the February 22 quake. The death toll currently stands at 166.
Vice-chancellor Rod Carr also warned staff and students not to walk across the centre of campus due to safety concerns. He also thanked everyone for their patience and flexibility.
- NZPA