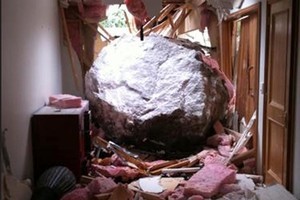 A 30-tonne rock that landed in the hallway of a Christchurch house during last month's earthquake has raised more than $60,000 for the city's relief fund after serious bidding on auction website Trade Me.
Confusion surrounded the end of the auction when Trade Me pulled a bid from NZSki, believing their $50,000 bid was a hoax because they could not verify it.
The next highest bid was $10,050 from Danielle of Franklin, south of Auckland.
Trade Me spokesman Paul Ford told NZPA they finally contacted NZSki, who confirmed the bid was valid, and a happy compromise was reached between the top bidders.
A trip to Norfolk Island, which was included with Rocky, was given to Danielle, while NZSki will haul away the massive boulder to display in their Mt Hutt carpark.
"We spoke to NZSki, we spoke to the seller and we spoke to the person that had ended up with the top bid and they were all, bless them, keen to come up with a compromise that would keep everyone happy," Mr Ford said.
"It's pretty awesome all round and I suppose it's just the spirit that was across the auction all week and has permeated into the bidding as well, which is really cool."
NZSki chief executive James Coddington they were excited about their "new family member".
They were now working on how to get the rock from the vendor Phil Johnson's house to their Mt Hutt skifield, where it would rest in the carpark.
"We're trying to source a crane to lift it and we're going to need a low-loader."
Once it arrives at Mt Hutt, it will be placed in a prominent position with a plaque attached to it, Mr Coddington said.
"I even understand there's someone knitting a hat for him."
The auction was the third most viewed in the website's history, behind the handbag Tana Umaga hit Chris Masoe with after the 2006 Super 14 final, and the "scary washing machine" listed along with pictures of dinosaur drawings, which received more than one million and 800,000 views respectively.
This auction had 316,354 views.
- NZPA