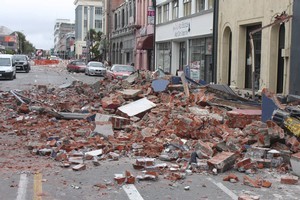 Missing people are still being reported nearly two weeks after the Christchurch earthquake, police say.
Superintendent Sam Hoyle told a joint media conference this morning about 200 remained missing from the February 22 earthquake but he said more names were being added by worried overseas families.
That was making identifying those killed in the February 22 earthquake more difficult, he said.
"We still get the occasional name added to the list - particularly with tourists and backpackers. It's these sorts of factors that add to the complexity of the job in front of us."
Post-mortem examinations on the recovered bodies would be completed by Disaster Victim Identification (DVI) teams in the coming days, Mr Hoyle said.
Mr Hoyle said most of earthquake victims would be identified in the coming weeks but there was an international precedent for it taking years to identify some victims.
"I think the longest example was 17 years.
"The bulk will be identified in the next week or two. But there could be a small amount that take a lot longer."
The body count from the earthquake remained unchanged at 166 overnight, he said.
Forsyth Barr building
Civil Defence Director John Hamilton told the briefing search and rescue work would continue to focus on the Forsyth Barr building today. Sniffer dogs initially indicated there were bodies there, but on returning in the weekend, no scent was found.
USAR spokesman Paul Baxter said clearing the building had been a "very slow, but steady" process.
Yesterday, he would not rule out that more bodies could be found in the rubble.
The USAR teams, police, and the Fire Service yesterday cleared 300 buildings.
Mr Hamilton said work had finished at the Grand Chancellor Hotel, but no decision had been made on whether it will be demolished. He said the hotel was "basically safe".
He said some inner-city buildings were being deconstructed in a controlled way, in order to recover more bodies.
While sometimes this required partial or complete demolition, no structure would be felled without the consent of the building's owner, he said.
"Each building is accessed on a case by case basis and every practical endeavour is made to contact the building owner within 24 hours before we step in.
"I'm responsible with approving any demolition if the owner cannot be contacted and there is a need to move quickly for the safety of the teams."
Cordons
Mr Hamilton said that businesses hindered by the closure of Christchurch's central city would soon be thrown a lifeline, with engineers sent in to retrieve their most valuable resources.
He said items essential to running a company could be retrieved from damaged buildings, once business owners registered for help.
Civil Defence was working with the Chamber of Commerce to make the process run smoothly.
The city has been divided into four green zones where restricted access will be allowed, and a red zone closed to the public.
Zones one and two to the east and west of the city centre yesterday opened to residents, business owners and property owners from 8am. The public was allowed in from 2pm.
Civil Defence expected to open zones three and four to the north on Wednesday or Thursday, Mr Hamilton said.
Business owners could have controlled access to the "red zone" as early as next week, after registering on a website expected to be up in a few days.
"I'm aware of the need to give people access to their property and the opportunity for businesses to access material, as it's an important part of process for recovery for the city," Mr Hamilton said.
"I'm also aware of the historical importance of many of the buildings and their contents."
Click here for a map of the cordon zones in the CBD.
'Great values of human spirit'
Mayor Bob Parker told the conference the "greater values of the human spirit" have never been more evident than in the aftermath of the earthquake.
Mr Parker said he was proud of his community's response to what had been a massive crisis.
That was exemplified by a man who approached him on a suburban street in the weekend to write a $20,000 cheque to give to charity, he said.
"That's an indication of the sort of things that are happening across our city at the moment.
"This is an emergency like we've not seen in New Zealand before. People are handling it and organisations are handling it in a way which we can be proud."
State of emergency
Prime Minister John Key earlier said the national state of emergency imposed after last month's devastating earthquake would be extended today and was likely to be in place for some time.
The status has to be reaffirmed every seven days and Mr Key said this morning that given the extent of the devastation it was still needed.
"I think they will be there for quite some time actually," he told TV1's Breakfast.
Community meetings
A series of community meetings continues today with the first at McCormacks Bay Reserve at 12.30pm. It will be followed by a 3pm meeting at the Sumner School grounds, and a 5.30pm meeting at Lyttelton Rugby Park, off Godley Quay.
There are four more scheduled for Wednesday. They are at 9.30am at Richmond Park, midday at Parklands Reserve, 2pm at Rawhiti Domain and 4pm at South New Brighton Park. Click here for the full list from Civil Defence
- NZHERALD STAFF, NZPA, NEWSTALKZB and AGENCIES