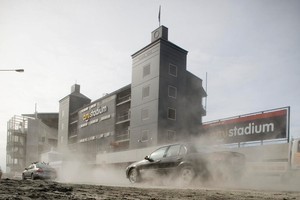 Accommodation providers renting out homes for the Rugby World Cup are clinging to hope that the tournament will still be held in Christchurch.
Several providers contacted by the Herald yesterday said it was too soon to tell how many homes on their database had been damaged by last week's shake.
Prime Minister John Key and Christchurch Mayor Bob Parker have expressed optimism that the seven Rugby World Cup games planned for the city will go ahead.
Christchurch was utterly committed to holding its Rugby World Cup matches, despite the damage wreaked by last week's earthquake, Mr Parker said yesterday.
"Utterly, absolutely, totally committed to that," he said.
"I have conveyed to them that the citizens of this city will be far from pleased if they miss out on an event that has taken on a different meaning to the people of Christchurch and the people of Canterbury.
"We have to be pragmatic and realistic, and accommodation is one of the issues that is concerning us. AMI Stadium is going to be fine for the Rugby World Cup and we are determined to make it happen here in Christchurch."
But officials are reluctant to discuss the matter before assessments of the stadium and whether the city's accommodation and infrastructure are completed.
Sue Robinson from accommodation website 80minutegame.com said she had about 15 properties at Sumner, which was one of the badly damaged parts of the city.
"That's the concern for us but it's too soon. It's a sensitive time to be thinking and working this out."
She said it remained to be seen exactly what damage there had been to homes for rent throughout the tournament and she would not be calling people to find out for weeks.
"They're still looking for bodies. It would be totally the wrong time to be asking questions.
"The majority of our properties are fine, we're starting to hear from owners, obviously the ones who can contact us are telling us they're fine."
Mrs Robinson is confident that if necessary, she can shift guests to other properties which have not yet been let, but like many awaiting news of the Christchurch leg of the tournament, she does not know if it will come to that or if games will be moved to othercities.
She was hopeful the tournament would go ahead as planned, despite the disaster.
"I have utter faith that it will all work out and this is just a glitch for the people of Christchurch. It would be devastating if they took the tournament away.
"New Zealand is a bit of a can-do country ... the silver lining is if they can get the games in Christchurch we've still got time to do that. The downside for the whole country is that it's affected everybody."
The majority of inquiries she had received revealed a "completely unperturbed" attitude, Mrs Robinson said.
"We haven't been asked at all from any of our travellers to give them a refund.
"People are asking what's happening ... most people are really sympathetic to Christchurch ... that's not across the board though, we've got others who are really concerned."
Mrs Robinson said there were still some homeowners happy to let their homes, expecting the tournament to be held in Christchurch.
Hamish Congalton from the stayinnz.com website said he had not been in touch with homeowners to see if their homes were still available.
"We're going to get in contact with them but at the moment we just feel it's best to just give them some time."
Cameron Macneil from stay2011.com said yesterday that up to 40 of the company's 300-plus properties were in Christchurch, but he would take weeks to talk to homeowners because it was "pretty bloody soon" to be asking them about World Cup accommodation.
"It's the last thing on their minds."