A week on from the quake, Christchurch people tell their stories to Star reporters...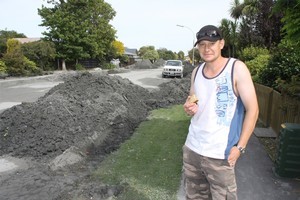 Simon Taylor, 32, of Avondale, was at Arthurs Pass on his way to Hokitika when the earthquake hit. He came home Wednesday morning. Everyone he knew was thankfully fine. He was "shattered" after digging liquefaction from around his Prestwick St house. "Last time we were so lucky - it stopped two doors down. The road was basically clear. This time we were unlucky. Mother Nature's just come back to finish it off and make sure everyone's had a go." He is staying out in Brooklands because his house has no power, water or sewerage - which is difficult as he and his partner have a 2-year-old son.
Gwenda Murfitt, retired, of St Albans: I was in Pak'n Save at Moorhouse Ave. It was really scary. I was near the end of the meat aisle and if I had been any nearer to the soft drinks I would have been clobbered. I was able to help a few people get out. I live in the Berwick Courts council flats and this time there was a lot of liquefaction there, and we've got burst water pipes. My flat is an absolute shambles but it is not structurally damaged. We got power on that night and water on after a couple of days, so we were very lucky.
The worst thing was not being close to my family. My daughter and her husband and their three children live in Addington, and I went straight over there."
Juliet Hamill, of Central Christchurch: I work at the university in the records office on the fifth floor. It was scary, it was really very swayey back and forward. I got under a door frame. Everyone was pretty calm and got out easily. Hopefully we'll know more later today about when it will reopen. I live in town within the cordon in St Asaph St, so I'm living with my boyfriend Johnny Moore's family in Shirley, and mine is just around the corner. We were able to get in on Thursday to my place and get some clothes and toiletries. I was just so afraid to begin with last Tuesday, and thought Johnny was dead for a couple of hours because I couldn't get hold of him. It was probably the worst I've felt ."
Daniel Jones, of Shirley: "I work on the corner of Madras and Lichfield on the third storey, and I saw the CTV building coming down. . We got out down the stairway. I saw people squashed by bricks down the street, and people were trying to dig them out. I had a guilty feeling for not staying, but I've got two kids under 2 1/2. Fortunately my partner Amanda and my sons Sawyer, who is 2, and Finlay, six months, were all OK. The children normally play in our front room, and five minutes before Amanda had taken them into the kitchen. A big bookcase came down where the baby normally plays. I put them on a plane the next day and they're staying with her mum in Adelaide.
Alan Burrin, 69, retired, of Redwood: Mr Burrin said he found the whole experience "a bit hairy". He had no water but power had been restored in his area. "Power was on about three days after the quake. We had water the whole time," he said. But he said he was lucky his house was undamaged. His daughter's rental property in Avondale however, did not get off so lightly and was surrounded by liquefaction. "I'm disappointed for her that it's been hit twice." Mr Burrin said he was not coping with the stress of the quake. "It's very emotional." He said thankfully all his friends and family were accounted for.
Marchelle Shatford, 45, a preschool manager of Westhaven said her house was undamaged so she was offering help in nearby suburbs. She and daughter Chantelle, 15, have been shovelling liquefaction in Avondale. "The condition of the streets and what's happening to people's sections is upsetting because this is what they've got to come home to." She was in a nursery when the quake struck. "I was picking babies up. They woke up in a fright. They're crying and then you're crying. Some who had just learned how to walk had this look of astonishment on their faces." She hopes to go back to work later this week.
Chantelle Shatford, 15, student, of Westhaven: Chantelle thought she had simply lost her balance when the earthquake struck. "We had a half day at school. We all got sent home. I'd just got off the bus on Riccarton Rd. I thought I'd lost my balance at first." She then realised it was a quake. She said she was under a canopy at the time and thought "oh no, I'm going to get crushed". "I didn't see any injured people but people in a state of shock." She was helping shovel liquefaction in Avondale yesterday. "I don't think there's such a thing as soft hands in Christchurch anymore." She said it made her feel better to be helping.
Terry Blackler, 48, of Avondale, says Good Samaritans have been a godsend after his suburb had been affected by liquefaction for a second time within months. He coped with help from the student army and volunteer helpers. A Banks Peninsula farmer had brought his digger to clear the liquefaction. Two men from Hinds had also come to help. "One couldn't get his tractor here but stopped and rented a digger in Ashburton. It's guys like that who have been a godsend to us," he said. "They're in here breaking their backs. They just keep digging and digging."
Frank Rees, 68, retired, Ferrymead, said he had power back on Sunday night but still no water. He was unsure if he should be living in his house with huge cracks, but he was. "Everything is broken but we've cleaned up all the glass because we still have to live here. We've had huge cracks since September 4. We were scared for our lives in the house immediately after Tuesday's earthquake so we were staying in the garage but we have moved back into the house for now."
Carole Pomeroy, 65, retired, North New Brighton, said the support from people had been wonderful. "You've just got to be grateful for what you've got at this time. We had decided to be naughty on Tuesday and go into town to have takeaway. We were on our way in when it hit, but we just turned about and headed home. We have no power or water and we've been using our swimming pool to flush the toilet. My husband works for life insurance on commission. He can't get out to work so our income gone."
Stephanie Garrett, 20, Shirley, was impressed with the number of people helping her and her family. "People have come to check our chimney, the Salvation Army has been with boxes of food, Mum cried when she saw them. The fire brigade and the police have been through. I have no work but we should be going back because our office is fine, I think. I was at home with mum when it hit. After it happened mum and I split up to get my sisters from school. Their schools were hit really bad."
Les Claxton, 55, mental health worker, of Avondale, said he was sick of rubberneckers driving by and looking at people's homes.His house had been red stickered and he had been given two days to evacuate. He hoped to be out later on yesterday. Mr Claxton said despite having to move out of his rental property he was lucky friends and family were safe. He said he and his partner were in bed at the time the quake hit, as
they both worked a night shift. They are both back at work.
Robin Doyle, 36, student, Avonside, watched the CTV building collapse from across the road. He worked in the Kings Education building in 2009 and knows many of the missing people. "I just feel numb. It all feels so surreal still. I was just having lunch when it hit. We hid under the tables but they were bouncing up so high we had to hold them. Our meeting site and it had rubble and crushed cars so we moved to Latimer Square. I I still have no power and no water but for me it's just stuff that's gone."
Chris Steer, 51, nanny, Sumner, was in Mt Pleasant when it hit. "I had the baby in a high chair which I just had to tip and put her under the table because there was no time to get her out. It was really frightening. The children have now been taken up to Auckland. My house is fine but it has no power or water. My daughter knows [quake victim] Mathew McEachen very well from Southern Ink. It was nice that on Sunday night they all went around to his flat and had a barbecue to share stories and pictures."
Cory Jarman, 31, fisherman, North New Brighton, was out at Birdlings Flat on a commercial fishing boat. "It was just a rolling wave nothing big. But it was weird because all these seals turned up, I guess they must have left the shore. Then all these dolphins and birds arrived, far more than usual. We tuned in the TV and that's when we knew it was major. It took about seven hours to get back to shore
because Lyttleton was closed. Took about four hours to reach my family to make sure they were ok."
Jackie Daus, 48, auctioneer, Dallington, said she had a well come up in her kitchen and it had pumped out water for two days. "Now we have had a builder in who has put a pipe down it and a tape so we have put a hose out to the street for people to get water. It's quite a sight. I was really lucky when it hit, I was home but so were both my sons so we were all in the same place. The house is structurally gone but we are still staying there. It doesn't feel safe at all so we are not inside during the day, only to sleep."
Kylene Nelson, 37, mother, Richmond believes her part-time job at Brumby's in Eastgate shopping mall was likely to have been destroyed. "I'm on maternity leave so I don't know what has happened with my job. I had my daughter in between the two earthquakes, I was putting her in the car when it hit. We are all ok, my husband is back at work. A friend was killed in The Press building, I don't know what she was doing there or any of the details. She was a lovely lady."
Ivan McCauley, 36, student, Avonside, had not left his house since the earthquake until the Student Army arrived yesterday. "When it hit I rushed to get to school for my kids. I basically got home from polytech and haven't left since. People think I'm stubborn because I've been told to leave the house by Housing New Zealand but I don't want to leave my stuff. There are people far worse off. We have no power and no water but the kids have made a BMX track out of silt in the backyard."
Amanda Manning, 22, of Bryndwr, ran into town to get to her mother who works at the IRD, just across the road from the CTV building. "It was horrible when it hit - the ground was breaking under my feet. Our car is in the Wilson parking building in Bedford Row up the top. Apparently one floor collapsed, so I don't think we will get it back. Our home is fine, no damage. We lost power and water but everything is back on now. The worst thing is seeing it all on the news and reliving it. It is hard to get to sleep."
Vicky Anderson, of St Albans was dropping her 4-year-old son Bailey at kindy, the Playroom in Manchester St, when she was thrown to the floor. "I wrapped my arms around him till it stopped, then took him home ... Everything's trashed in our house - a big TV went over, a big duchess went over. The front fence crumbled away but the landlord's fixed it. I've managed to save Bailey's goldfish in both quakes. His bowl hadn't broken the first time and since then I've kept it on the floor!"
Carl Bacon, of Kainga, was driving to his shop in Acheson Ave when the earthquake hit. "I thought I'd snapped an axle or a mag on my Explorer ... Then I saw the power poles were moving, and there was a big crash on the side of the car. I got a dent but I don't know what hit it. The last jolt was the most violent and popped the Explorer up on to two wheels. The roads were filling up with water ... My biggest concern is that they get it right this timeand get EQC on to it much faster."
Jeremy Latter, businessman, of Edgeware says his property is 80 per cent covered in 60cm of silt. "Our house is totally destroyed. The house was unliveable after September and we have been commuting from Methven. The irony is that in two weeks they were going to attempt the repairs. The force of nature scares the bejesus out of you. I drove around for three hours trying to get my son, and at times my 4WD was up to
the bonnet in water. His texts were coming in two hours after being sent."
Leanne Willis, of St Albans, was working at Ambrose Heal Furniture on the Edgeware-Barbadoes corner, where they are rebuilding from the September quake. "I felt the shake and thought it was pretty bad and ran outside. A customer bolted out and hugged the ground, and the boss and a co-worker fell out the door together. I live nearby and there was no damage to the house this time. I've lived in Christchurch all my life and it's terrible seeing places where you've hung out with friends on TV."