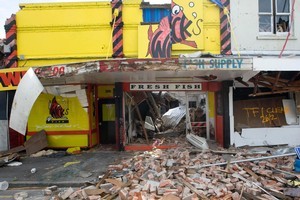 Migrant communities in Auckland are opening not only their wallets but also their homes to earthquake victims.
Distraught tourists, international students and migrants who have lost their homes continue to arrive at Auckland's domestic terminal - some without money and passports - not knowing what to do next.
The Korean Consulate, which ran a help desk at the airport from Friday, said nearly 70 South Koreans sought help with documentation, food, temporary accommodation and flights home.
"Many are distressed and just want to be somewhere where they can be understood and eat food they are familiar with," said consulate spokeswoman Rebecca Kim.
"The local Korean community has been wonderful in opening up their homes to these victims."
Audrey Chung, who is also the local Korean Society vice-president, has hosted three Korean couples - tourists who ran from their hotels with only the clothes on their backs - and a shaken international student.
All seven got on to a flight to Seoul yesterday.
The Korean Society, which has already donated $20,000 to the Red Cross, is also turning its annual Korean Day event at the North Shore Event Centre on March 19 into a fundraiser, Ms Chung said.
There are about 5000 Koreans in Christchurch, 1500 of them international students.
Migrante Aotearoa, a Philippine migrant workers' rights group, is also appealing for the Philippine community to help their compatriots.
The group says it has received information that 30 families have been badly affected by the quake.
"While we encourage those who are able to donate through the Red Cross and other agencies helping all Kiwis ... this appeal is specifically for the affected Filipinos in Christchurch," said co-ordinator Marty de Lima.
Philippine consul-general Emilie Shi said donations of blankets, canned food and milk powder for Filipinos can be dropped off at the Good Shepherd Catholic Church in Balmoral, but cash donations should be made through official channels such as the Red Cross.
There are 2000 Filipinos in Christchurch; 11 are missing in the quake.
The Malaysian High Commission in Wellington says it is continuing checks on the safety of Malaysians in the city and finding out if there are other Malaysians still missing.
About 640 Malaysians, including 390 students, live in Christchurch, but there are others who had not registered with the commission.
"Initially, we were told there were 17 Malaysians missing, but now it's down to only one," said first secretary Siti Jalilah Manap.
"Most of the Malaysians who have contacted us say they just want to leave Christchurch and go home, and we are doing all we can to help them."
The commission is offering two chalets in its compounds as temporary accommodation.
LOST VISITORS
Police have yet to release a list of people missing and their nationalities, but the Herald understands the missing includes people from:
* Australia
* UK
* Ireland
* Malaysia
* China
* Thailand
* Philippines
* South Korea
* Japan
* Peru
* Taiwan
* The Czech Republic