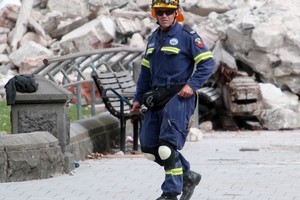 9.47pm
Thanks for following our ongoing updates. They will continue early tomorrow morning. Goodnight.
8.52pm
Telecom says any national and international calls made from Christchurch residential landlines in the week after Tuesday's deadly earthquake will be free.
Telecom retail chief executive Alan Gourdie said being able to connect with friends and family during a crisis was of critical importance.
It will credit all residential landline customers in Christchurch and its neighbouring towns for any national and international calls made in the week following the quake until midnight on Monday, February 28.
"While we recognise the worst affected area has been in Christchurch CBD we have extended the relief credit to the local calling areas of Akaroa, Darfield, Rangiora, Amberley and Ashburton."
Telecom has also established Telecom Connect Hubs at the Christchurch welfare centres, offering free calling, free internet access, mobile charging facilities and distribution of analogue phones for people without power at home.
Meanwhile, 2degrees says its Christchurch network has now been restored.
3.27pm
Universities New Zealand is confident Canterbury universities will provide a full-year academic programme, but encourage concerned students to contact their university after last week's devastating earthquake.
Two days into the academic year students' studies were bought to a halt at the University of Canterbury, Lincoln University and the University of Otago Christchurch campus.
"Students and their families can be assured that the universities are working together with government agencies to explore all possible avenues to make sure that students will have continuity of study during this difficult time," Universities NZ chairman Derek McCormack said.
Universities NZ encouraged Canterbury students to keep in touch with their universities for up-to-date news and developments.
Students should express any concerns they had with continuing their studies with their university, Mr McCormack said.
- NZHERALD STAFF, NZPA, NEWSTALK ZB, AGENCIES
© Copyright 2016, NZME. Publishing Limited
Assembled by: (static) on production bpcf02 at 30 Sep 2016 00:25:54 Processing Time: 723ms