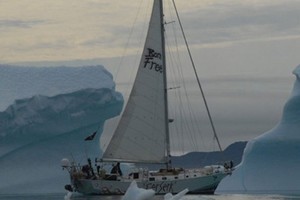 Searchers say there is little chance the three crew members missing on a yacht in Antarctic are still alive.
The 14-metre Norwegian yacht Berserk has not been heard from for nearly a week since its emergency locator beacon was activated on Tuesday.
Its life raft was found empty and damaged last week and an intensive grid search by the Sea Shepherd Conversation Society ship, Steve Irwin and its helicopter failed to find the yacht.
The yacht dropped two crew members, including skipper, Norwegian adventurer Jarle Andhoey, 34, off near Scott Base and they were to trek to the South Pole. They have both returned to Scott Base yesterday and head back to Christchurch today.
The Steve Irwin was released from the search last night by the National Rescue Co ordination Centre in Wellington and was heading for Hobart.
Rescue centre spokesman Nick Churchouse said the Steve Irwin had spent the past 24 hours scouring the Antarctic Coast as it sailed north from the initial search area and found nothing.
It had searched for Berserk for five days, using seaboats and its helicopter, which spent 18 hours searching coastal areas and sea.
The commercial Antarctic expedition vessel Professor Kromov was due to sail through the search area in the next few days and had been asked to keep a lookout for Berserk.
The search covered 10,000 square kilometres in McMurdo Sound and surrounding seas.
Four of Berserk's crew were from Norway and a fifth, who was missing, was from the United Kingdom.
The yacht disappeared during one of the worst blizzards of the summer season.
The rescue centre said water temperature was near freezing, with ice forming, putting survival times at mere minutes.
- NZPA