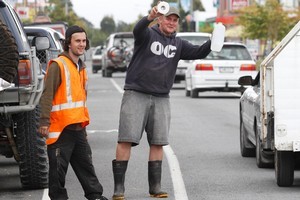 Several cases of gastrointestinal illness have been reported in Christchurch, where many people have been put at risk of infection by earthquake damage to the water supply and sewage-disposal systems.
Outbreaks of stomach infections from a wide range of intestinal pathogens - such as salmonella, campylobacter, norovirus, giardia and hepatitis A - can easily occur after a city's water and wastewater pipes are damaged.
Symptoms - typically stomach cramps, vomiting, diarrhoea and fever - can range from mild to serious. Some cases can be fatal.
A Canterbury medical officer of health, Dr Alistair Humphrey, said two people were treated at Christchurch Hospital for gastrointestinal illnesses on Friday and a third was reported from the welfare centre at Cowles Stadium in Wainoni. He had no details of the cases.
He said the two cases at the hospital and the one at Cowles Stadium, which had since closed because of lack of power and water, were not an unusual number for an ordinary day and could not be classified as an outbreak.
The Canterbury District Health Board said it was doing everything it could to minimise the risk of gastroenteritis (vomiting and diarrhoea).
"All water should be boiled, unless it's been bought in a sealed bottle," a spokesman said. "That includes water from water tankers at refill stations."
Hand sanitiser is now available from water stations.
Dr Humphrey said reticulated water supply was being restored gradually across the city from west to east, excluding the CBD.
"It means personal hygiene becomes less of a problem once the water is running."
But he said even tap water had to be considered contaminated - because of the risk of sewage having seeped out of broken sewers and into broken water pipes. Therefore tap water had to be boiled before consumption, although it need not be boiled for hand-washing.
HEALTH ADVICE
WATER
* Boil all drinking water for one minute, unless bought in a sealed bottle.
* Even supplies from a tap or tanker must be boiled.
* The same applies to water for brushing teeth and washing or preparing food.
SEWAGE
* Assume all river, sea and other surface water is contaminated.
* Avoid contact - no swimming, fishing or gathering shellfish.
* Sewage contamination of your home? Move out.
HANDS
* Wash hands frequently with soap and water, and dry them, especially after using toilet, after contact with sewage contamination, and before preparing or eating food.
* Alcohol-based hand cleanser is an alternative.
* Tap water need not be boiled for hand-washing.
- Source: Canterbury District Health Board