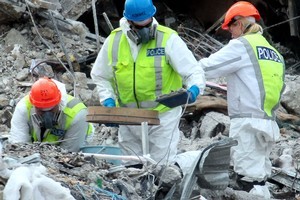 St John has hit out at hoax callers who have been wasting its valuable time and ambulance service resources following Tuesday's Christchurch quake.
"The ugly side of human nature is being revealed with hoax calls about people injured and trapped in buildings by the Canterbury earthquake coming into the emergency ambulance communications centre," acting Southcomm emergency ambulance communication centre team manager Nicky Green said today.
"It's really sad because it's wasting everyone's time."
One text message sent on Friday read: "Just found phone one that works but not much life left. I am in corridor second floor I'm stuck."
"This message resulted in St John ambulance staff and Urban Search and Rescue (USAR) being alerted, was later confirmed as a hoax by police, who checked the phone details and found the owner of the phone alive and well," Mr Green said.
A second hoax text came later the same day and read: "Help me I am alive. I am inside CTV building, please come fast can't breathe".
Mr Green said this text alert came via a website set up after the quake, so it was unlikely a person trapped by the quake would have known of its existence.
Police were called into to investigate and later confirmed that this was also a hoax.
"St John encourage people to phone 111 in an emergency but cautions anyone contemplating hoax calls that this practice wastes life saving resources and can result in emergency services being unable to respond to life and death situations," Mr Green said.
Hoax calls would not be tolerated and could lead to prosecution.
- NZPA