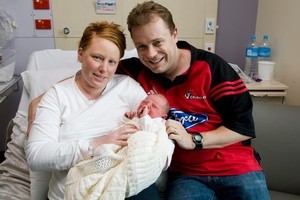 Jessica McBrearty was two weeks overdue in delivering her unborn son when she went to hospital - just as Christchurch was turning upside down.
The car swayed as they pulled into the hospital. Her husband Hamish thought they had a flat tyre until he saw a Hagley High School student "running for his life" and buses across the road swaying like trees.
"I didn't realise the gravity of it until we got down to the hospital and saw all these people milling around and casualties being brought in. We decided we didn't need to be here."
The McBreartys returned to their Addington home, largely untouched except their 75-litre fish tank, which they found smashed in the lounge.
They went back to Christchurch Women's Hospital on Friday where Joseph David McBrearty was born by caesarean section just before 5pm, weighing 3.8kg.
"He really wasn't ready to come until then," said Jessica.
Asked if they had considered other names because of the quake, McBrearty said his parents suggested Rick - short for Richter.
The couple said Joseph would grow up in Christchurch. Says Jessica: "It was a scary time, but you have to make the best in these situations."